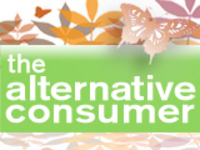 Our goal is to bring green to the masses
New York, NY (PRWEB) September 23, 2009
Today, the go-to Web site for green consumers, The Alternative Consumer, announces the official launch of its redesign. Focused on products and concepts that make a difference and encourage change, the freshened Web site will continue to explore green consumerism through daily content highlighting smart, innovative green products and eco news.
Known for its snappy, snarky flavor, The Alternative Consumer has risen in popularity as an environmentally conscious blog that takes a light-hearted and optimistic approach to smart consuming. Serving as a knowledgeable resource promoting a "think before you buy" mentality, the site reaches the Lifestyles of Health and Sustainability (LOHAS) market segment, an audience accounting for over $200 billion in goods and services, according to the Natural Marketing Institute.
The new Web site features a clean, easy-to-navigate design with improved search functionality and video capabilities, as well as departments devoted to such hot topics as: Fashion, Home décor, Design, Health and beauty, Green gadgets, Eco news, Food, Alternative Energy, Pets, and more...
The site's popular Great Green Giveaways provide sponsorship opportunities, which allow socially responsible companies to introduce inspired products to The Alternative Consumer's broad, engaged audience.
"Our goal is to bring green to the masses," says Maureen O'Connor, founder and publisher, The Alternative Consumer. "Collectively, our purchasing habits make a difference that influences global change, the driving force behind The Alternative Consumer. When reviewing a product, we consider its entire life cycle. It's not about buying the latest green gadget or gizmo; instead, it's a concerted effort to recycle, repurpose and consume less by choosing lasting value and purpose over disposability."
The new Web site design was created by Ron Humer, owner of video graphics/editing and Web design studio, Editology. WordPress coding, design and implementation by Mark Edwards of Simpler Computing.Net.
About The Alternative Consumer
Founded in 2006, The Alternative Consumer (http://www.AlternativeConsumer.com ), provides a unique perspective on environmental news, art, products and concepts and has been identified as one of the "Top Five Sustainable Blogs" by Advertising Age.
Media Contact:
Maureen O'Connor, Founder & Publisher
O'Connor Media Design
###