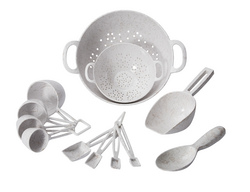 Spokane, WA (Vocus) June 14, 2010
When it comes to gourmet meals, the world's top chefs often say that texture is almost as important as taste. The same could be said about the tools used to make those culinary creations. While the products in Zak Designs Eco line provide a striking balance of stylish functionality, it's the unique texture that has made the line so popular and led Zak to expand its offering of Eco products in 2010.
The texture of the Eco line comes from the patented process used to infuse Rattan wood – a rapidly growing plant similar to bamboo – with melamine and create a product unlike any other on the market. The process also gives the products their organic color tone that is so popular with today's earth-conscientious consumers.
For 2010, Zak will introduce into the offering a large 3 qt and a small 24oz colander, a large scoop as well as measuring cups and measuring spoons. The additions will round out the existing line that includes nested serving and mixing bowls, mini prep bowls, a serve tray, batter bowl and an ice cream scoop. With the new additions to the line, consumers can carry the Eco theme throughout their kitchen, and prove that texture has as much a place in the culinary tools as function and fashion.
With offices across the globe, Zak stays at the forefront of emerging fashion, color and design trends from around the world. By incorporating those styles into modern and innovative tabletop and kitchen prep collections, Zak continues to be recognized as a global authority on trend-focused housewares. More information is available at http://www.zak.com.
###