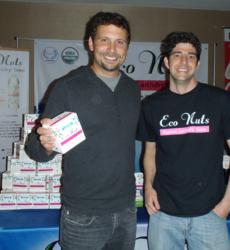 Grant Bowler of Lost, Ugly Betty and True Blood-fame chuckled, "If you guys aren't careful, you could save the planet."
Los Angeles, CA (PRWEB) January 25, 2012
Celebrities went 'Eco Nuts' over environmentally friendly cleaning products that were featured at this year's Boom Boom Room Pre-Golden Globe Awards Gifting suite, a posh gifting lounge attended by A-List celebrity parents and media.
"Eco Nuts, thank you for the awesome product," said Jillian Michaels of the Biggest Loser who couldn't wait to try it on her laundry.
At the event, Eco Nuts co-founders Mona Weiss and Scott Shields handed out samples of their trademarked and branded soap nuts along with liquid laundry soap made from soapberry extract. They also demonstrated to the celebrity parents how easy it is to use the soap nuts - literally a soap-bearing berry that grows on a tree – as a natural, economical, and nontoxic way of doing their laundry both on set and at home.
Grant Bowler of Lost, Ugly Betty and True Blood-fame chuckled, "If you guys aren't careful, you could save the planet."
The stars were amazed at how just five Eco Nuts Soap Nuts in a small cloth bag and tossed in the machine could wash loads and loads of soiled clothes and diapers.
Everyone also marveled at the sexy aluminum bottles – which Eco Nuts uses rather than any plastic -- and that just a tiny amount of liquid is needed for a regular load of laundry.
Gilles Marini of Dancing with the Stars was floored by its ease of use. "This is awesome, this is revolutionary," Marini said.
"This is the coolest product here today," exclaimed Kym Whitley from Rango and We Bought a Zoo, of the Eco Nuts offerings.
Celebrities were also thrilled at the prospect of a detergent that does not leave a chemical residue so it is safe even if their children chew on their clothes, and will not aggravate their sensitive skin.
"[Eco Nuts are] a perfect product for super sensitive skin, which is a problem I have in my family," said Joey Lawrence's wife, the elegant Chandie Yawn-Nelson.
"Thanks so much for introducing me to natural way of cleaning clothes," said Anisha Nagarajan of Outsourced, who was among those in the Boom Boom Room.
The Boom Boom Room is said to be the number one gifting suite attended during the exciting Golden Globes event, with some celebrities even lining up to get in.
Other boldface names in attendance included Jeremy Sisto, Evan Handler, Brooke Anderson, Lisa Loeb, Samantha Harris, Nancy O'Dell, and Michael Costello.
Eco Nuts was also featured on a segment on the television program The Insider, showing Weiss and Shields gifting Eco Nuts products to an expecting military family invited to the event.
Shields, an actor who has appeared in the Pirates of the Caribbean movies, said, "We are excited about how well Eco Nuts have been embraced by both regular moms and celebrities alike."
About the Boom Boom Room: The Boom Boom Room is an exclusive event put on by Glamor Guru Jayneoni Moore. Jayneoni, a regular on MTV, VH1's The Fabulous Life of Celebrity Kids, Entertainment Tonight, The Insider, MSNBC Hot List and CNN, is well known as a bonafide Kiddie-swag specialist for Hollywood celebrities. Jayneoni's signature Boom Boom Rooms are held at hush-hush Hollywood locations and showcase the must-have baby and children's products of the season. Jayneoni Moore has become known as the "Fairy Godmother" to many of the famous tots in Tinseltown.
About Eco Nuts: http://www.EcoNutsSoap.com
Eco Nuts is an award winning, clean-rinsing detergent embraced by parents for its effectiveness on cloth diapers and its gentleness on sensitive skin, eczema and psoriasis. Eco Nuts Liquid Detergent and Eco Nuts Soap Nuts contain no dyes, fragrances, fillers, enzymes or optical brighteners and are 100 percent SLS (sodium laurel sulfate) and phosphate-free. Eco Nuts is also the largest soap nut brand in North America with hundreds of stores and thousands of Facebook fans.
###