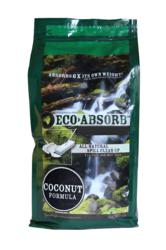 I'm excited to see the momentum we carried into 2013 begin to open doors and help us scale the operation.
Ontario, CA (PRWEB) February 22, 2013
Eco>Absorb®, an all-natural, environmentally-friendly super absorbent manufactured in Ontario, CA by Eco-Absorbent Technologies, Inc., is poised for major growth in 2013. The result of a focused effort in 2012 to build brand awareness and engage with those industries that use large amounts of absorbents, Eco>Absorb® is expecting 2013 to be a breakout year. The 5 year old startup, founded by Inland Empire businessman Michael Shannon (who also helms Shannon Diversified, Inc.), is keenly focused on new relationships with major distribution partners designed to help them extend their reach well beyond Southern California.
Highlights of their success in 2012 include the expansion of their business with Target to include Target's new stores in Canada, major new inroads into the United States military, a unique partnership with Jim Dunn Racing and the NHRA that opened doors within the automotive industry, and a roster of new distribution partners that are gearing up for a major sales push in 2013. "We took our time over the first few years of development to grow cautiously and to pay close attention to what our customers were saying. That lead to new product developments and a strong foundation from which to grow. In 2012, we turned our attention to communicating our value proposition. Now, I'm excited to see the momentum we carried into 2013 begin to open doors and help us scale the operation." Stated Michael Shannon.
Eco>Absorb®'s new headquarters, a key piece of the expansion puzzle, will still be located in Ontario, CA. When the move is complete in early February, their office space will have almost doubled and the manufacturing and warehouse footprint will double as well. "This move and expansion does a few things for us. For starters, we are aggressively staffing to fill all of the sales support and customer service roles that are required to properly support a growing distribution channel. At the same time, our regular orders are growing in frequency and size and we need to have more product in stock ready to ship." Commented Mr. Shannon. "We had our pick of many fine facilities and I'm pleased we were able to remain in such a central location like Ontario, with easy access to rail, the ports and the airport."
Information on the Eco>Absorb® line of super absorbents can be found online at http://www.eco-absorb.com.
About Eco>Absorb®
Eco-Absorbent Technologies, Inc., manufacturer of the Eco>Absorb® line of super absorbents, is the absorbent industries leading provider of all-natural, eco-friendly spill clean-up solutions. Billed as Nature's Ideal Spill Management Solution, Eco>Absorb® is the official absorbent used for spill clean-up in Target stores nationwide, and can be purchased online through HomeDepot.com. Eco>Absorb® is OMRI Listed and NSF Certified. To learn more, visit their website at http://www.Eco-Absorb.com, or contact Customer Service at 866-820-8050.