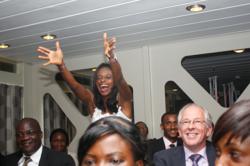 Mercy Ships has been considering opening an office in West Africa because we had the sense that West Africans wanted to join us at another level to bring hope and healing to this region. What you have done today has confirmed you are well ahead of us!
Freetown, Sierra Leone (PRWEB) June 06, 2011
History was made in Sierra Leone, the West African Nation ranked at the bottom of the Human Development Index. Seven years ago, 70,000 UN Peace keeping troops were in this nation. Today, the UN numbers less than 70. Two democratic elections have been successfully completed. The nation willingly disarmed. As the nation celebrates 50 years of independence, it seems fitting that West African businesses would donate to support the work of Mercy Ships. It is the fifth visit of a Mercy Ship to Freetown so the organization is well known and trusted.
Ecobank, the leading independent regional banking group in West and Central Africa, hosted a dynamic fundraising auction on board Mercy Ships' hospital ship, the Africa Mercy on the first day of June. The auction attracted over 50 businessmen and women from Freetown, Sierra Leone; raising over $30,000 USD for the international charity, Mercy Ships. The reputation of healthcare delivery to the poorest of the poor as well as the transparency of the organization convinced the West African businessmen and women that this was a worthwhile investment.
"I think it was time we showed some appreciation," said Ecobank Managing Director, Clement Dodoo. "This is the fifth time Mercy Ships is in our town and we can all see the wonderful things they are doing. We will never forget this day. This is not an Ecobank event, this is for all of us. I am really, really touched."
President and Founder Don Stephens highlighted the unique business model of charging the mainly all volunteer professional crew for the privilege of serving. Not only must all crew [currently 410 onboard from 41 nations] pay for air transportation but also monthly room and board. In particular, the West African business community commended the unique model of a global community living, working, serving and worshipping together while onboard ship.
The guests attending the fundraiser were given a tour of the hospital and they were amazed by the work being done—and the lives being changed—on this hospital ship. This event strengthened the excellent working relationship between Ecobank and Mercy Ships.
Chief Medical Officer, Dr. Gary Parker, addressed the group with a moving explanation of the mission of Mercy Ships and how the organization changes lives. Still in his medical scrubs, Dr. Parker had excused himself from surgery on the hospital deck, walked up three flights of stairs to speak at the event, and afterwards he re-entered the Operating Room to finish up surgery!
The auction was conducted by Winston Ojukutu-Macauley, former BBC Africa Service correspondent in Sierra Leone. To liven the atmosphere, he spurred the crowd to open their wallets—digging deep to donate to such an outstanding cause. "Mercy Ships is doing so much more than just operations; they help eradicate ignorance. Many people here still believe that curses and witchcraft [cause these conditions]. These doctors fix a leg or remove a tumor and show our people it's not a curse, just a condition that can be helped."
Items up for auction included paintings, football jerseys of West African players who play now in leading European Clubs such as Real Madrid, dinner certificates, perfume by the First Lady and three books about Mercy Ships, signed by the author and Founder of the organization, Don Stephens.
Mercy Ships has performed thousands of surgeries for free in Sierra Leone, including cleft lip and palate repair, orthopedic surgeries, tumor removal and cataract removal. Over the past 18 years, Mercy Ships has served in Sierra Leone five times. The organization has positively impacted the lives of hundreds of thousands of Sierra Leoneans.
In closing, Mercy Ships President/Founder, Don Stephens, addressed the guests.
"Mercy Ships has been considering opening an office in West Africa because we had the sense that West Africans wanted to join us at another level to bring hope and healing to this region. What you have done today has confirmed you are well ahead of us! The time for Africa has come. What you have done tonight has encouraged me beyond words—that we are on the right track. From the depth of my heart… it's not Mercy Ships thanking you, it's those who are outcasts and rejected and whose lives will be forever changed. Together, we have made history tonight!"
ABOUT MERCY SHIPS: Mercy Ships uses hospital ships to deliver free, world-class health care services, capacity building and sustainable development to those without access in the developing world. Founded in 1978 by Don and Deyon Stephens, Mercy Ships has worked in more than 70 countries providing services valued at more than $834 million, impacting more than 2.9 million direct beneficiaries. Each year Mercy Ships has more than 1,200 volunteers from over 40 nations. Professionals including surgeons, dentists, nurses, health care trainers, teachers, cooks, seamen, engineers, and agriculturalists donate their time and skills to the effort. Mercy Ships seeks to become the face of love in action, bringing hope and healing to the poor. For more information click on http://www.mercyships.org
US Contact Information
Claire Bufe, US Public Relations
Us(dot)media(at)mercyships(dot)org
903.939.7017
West Africa Contact Information
Reka Borsiczky
Public Relations, on Africa Mercy in Sierra Leone
Public(dot)relations(dot)manager(dot)afm(at)mercyships(dot)org
078-123-467
Photos taken by Pamelina Chang
###