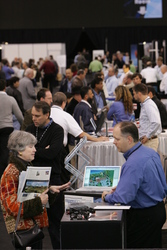 Washington, DC (PRWEB) October 30, 2008
The four-day (http://www.ecobuildfall.com) Ecobuild & AEC-ST® Fall Conference & Exhibition will return to Washington, DC on December 8-11. Taking place at the Washington Convention Center, this annual event goes beyond the typical notion of green design, providing the region's most comprehensive conference and exhibition on sustainability - green and high performance solutions for the built environment with the newest IT solutions.
"We are proud to be the gathering place for all building professionals - from architects to specifiers from engineers to end users - to gain industry knowledge, as well as cutting edge information." said George Borkovich, Ecobuild Principle
Topics of interest include green building, sustainable design, renewable energy, high performance building, building information modeling (BIM) and information collaboration strategies for commercial, industrial, government and residential construction.
Keynote speakers include:

Kevin Kampschorer, Acting Director of the Office of Federal High-Performance Green Buildings
Marvin Malecha, 2009 President Elect of the American Institute of Architects (AIA)
Congressman Russ Carnahan, United States House of Representatives
Missouri 3rd Congressional District

Ambassador Richard N. Swett, FAIA, Vice President and the Managing Principal - Washington Office LEO A. DALY
Interactive Highlights:

(http://www.sensiblecity.com/ecobuildmedia/?cat=10) Green Home - All attendees are invited to tour a hurricane-ready, 2 story home, constructed out of recycled shipping containers and finished with the latest in green building innovations, on display on the exhibition floor.
Live BIMStorm™ on Site - Join design and building professionals from all over the country as they engage in real time, collaborative, 3-dimensional design to create solutions for the Alexandria, VA community as they cope with the closing of military bases.
(http://www.sensiblecity.com/ecobuildmedia/?page_id=9) Green Education on Wheels - Visit this 44 ft Green Mobile Classroom, packed with the latest cutting-edge technologies - providing hands-on learning opportunities in an effort to promote more sustainable mechanical service and construction.
Awards & Events

(http://www.sensiblecity.com/ecobuildmedia/?p=274) BIM Awards - A panel of industry experts observing the Live BIMStorm™ will present awards on a variety of categories including; best urban planning, best design, most in-depth study, best multi-discipline design and more.
Beyond GreenTM High Performance Building Awards - SBIC; Sustainable Buildings Industry Council will showcase 2007 award winners - recognizing the initiatives that shape, inform and catalyze the high-performance building market, as well as the real-world application of high-performance design and construction practices.
Job Fair - sponsored by The Green Energy Council
Dates:
Conference: December 8 -11, 2008
Exhibition: December 10 -11, 2008
Early bird registration ($100 discount) ends Friday, October 31.
Co-located with: FEDcon®, FEDspec®, buildingSMARTalliance™ National Conference, Selling Products Effectively to Construction Specifiers™ and others.
Location: Washington Convention Center, Washington, D.C.
Held in Cooperation with: American Institute of Architects, buildingSMARTalliance™ - a Council of the National Institute of Building Sciences, Green Building Initiative; Green Mechanical Council, Specifications Consultants in Independent Practice
Corporate Sponsors: Gold: Alliance to Save Energy, Bentley Systems, Inc., Onuma, Inc. Silver: SG Blocks, The United Association of Plumbers and Pipefitters (UA), Wausau Paper
About Ecobuild & AEC-ST Fall
Ecobuild & AEC-ST Fall™ is THE annual gathering place for AEC professionals who design, construct, manage facilities and specify building products, materials, and services. AEC Science and Technology manages and produces Ecobuild America®, Ecobuild Fall®, AEC-ST®, and AEC-ST Fall®.
These events cover the unique intersection where ecology meets technology.
###