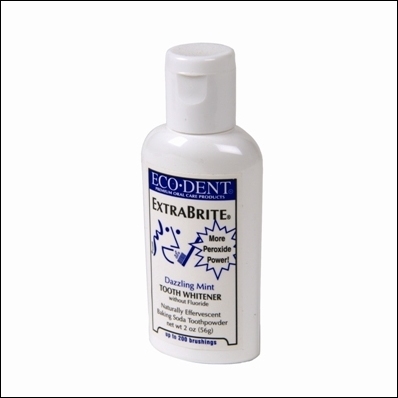 Twin Lakes, WI (PRWEB) July 24, 2007
Eco-Dent, maker of the leading brand of natural toothpowders in the natural products industry, provides its ExtraBrite formula for the highest level of active tooth-whitening power in an at-home treatment. The formula is based on the core Eco-Dent toothpowder blend which has been shown in university-based studies to remineralize and actually harden teeth without fluoride.
One of the major detriments of normal tooth-whitening regimens is the tendency of the products to actually reduce tooth enamel, weakening the teeth long-term. The breath-freshening mint-flavored baking-soda based EcoDent product offsets this tendency by providing a low-abrasive and remineralizing action unique to this formula.
ExtraBrite comes in a 2 oz. bottle sufficient for approximately 200 brushings, making it the most economical way to achieve brighter, whiter teeth.
The result is a low abrasive tooth cleaning product that has high whitening action. Eco-Dent is now available in most major natural food stores nationwide including Whole Foods, Wild Oats, and Vitamin Shoppe or through online retailers such as Amazon.com and many others.
Now consumers do not have to sacrifice the long-term strength of their tooth enamel to achieve whiter, brighter smiles.
For more information contact Eco-Dent, a division of Lotus Brands, Inc., P O Box 325, Twin Lakes, WI 53181. 262 889 8561 888 ECO-DENT. Eco-Dent Website
###