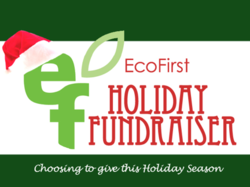 Salt Lake City, UT (PRWEB) December 16, 2011
With the season of giving upon us, EcoFirst Pest Control is pleased to announce that they will be hosting a company-wide holiday fundraiser that aims to serve more than 30 families from the inner city community of Salt Lake.
The socially responsible company has identified 31 struggling Salt Lake families and will be working with Cindy Andra, a renowned charity coordinator in Utah with significant philanthropic connections, to raise a total of $10,000. With this money they expect to make a real difference this holiday season.
"As a company, one of our primary purposes is to improve the quality of lives of the people we serve. We typically accomplish this by providing superior pest control services, however, this holiday we want to continue to make a positive impact in other ways," says David Royce, owner of EcoFirst Pest Control.
The selected families are living in extremely humble circumstances – some of them are sleeping on the floor and many do not have coats, warm clothing or warm blankets. Royce believes these unfortunate conditions present a problem that needs to be addressed.
"It's a great opportunity to serve our community in a meaningful and needed way," Royce exclaims. "Each of us live in very fortunate and comfortable circumstances … now is our time to give back during this holiday season."
And give they will. Between the raised money and other physical gift donations, all proceeds will go directly to helping these families in providing them with warm clothing, blankets, chairs, kitchen tables, food, toys and more.
David Royce and EcoFirst Pest Control are a trusted service provider in Salt Lake and beyond but this company-wide holiday fundraiser shows that they're about more than just customer service – they're about community service.
EcoFirst Pest Control specializes in residential pest management, and was recently been named by PCT magazine as the fastest growing pest control company in North America. EcoFirst is an accredited Better Business Bureau (BBB) business, and member of the EPA's Pesticide Environmental Stewardship Program. Admittance into the PESP is only provided to those organizations that adhere to a higher standard of alternative pest control practices that reduce potential health risks to humans and the environment. EcoFirst is also a proud partner of the United Nation's Foundation "Nothing But Nets" to help stop the spread of Malaria transmitted by the mosquito bite.
###