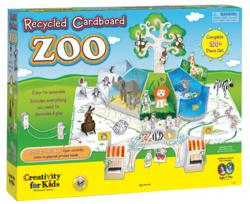 Cleveland, OH (Vocus/PRWEB) February 21, 2011
Creativity for Kids launches the Playscapes series with creative environments for play and pretend activities.
Based on the success of the award winning Recycled Cardboard Dollhouse, the company introduces its next eco-friendly kit, Recycled Cardboard Zoo. This cleverly designed set includes everything kids need to play and pretend zoo. Made out of recycled cardboard, the easy-to-assemble zoo has an entrance arch, animal enclosures, punch out animals and people plus other zoo-themed accessories. Even the packaging becomes part of the experience as the inside of the box is printed with a play area. Once the zoo is constructed, kids can decorate it with markers and stickers they color in themselves. "Go green" and re-purpose items from around the house for fun accessories. Then have fun playing and pretending with this custom zoo!
$29.99, age 4 & up, Zoo is 30" w x 17 ½" d x 15" h
Transform a pop-up garden into a fun fairy hideaway with the Shrinky Dinks® Fairy Garden kit. Use Faber-Castell® Colored EcoPencils to color in the pre-cut Shrinky Dinks® with fairy, flowers, and forest friends designs. Add glitter glue accents. Then decorate the garden playscape with the charms and have fun playing in this fairy world.
$19.99, age 7 & up, Garden is 14 ½" w x 11 ¼" h
Creativity for Kids add 4 new titles to its Coloring & ARTivity Books line of the most creative coloring books ever! Kids love to color, so the company developed a product line that takes coloring books to a new level of fun and enrichment for children. Original designs add to the appeal.
Two new titles join the classic line of Coloring & ARTivity Books:
Cool Metallics Pictures & Designs has 24 pages of quality art paper with cute and trendy designs featuring unicorns, cupcakes, rainbows, and butterflies. The book comes with 5 metallic pencils in a reusable storage pouch. Use the pencils to color on black backgrounds for sparkly effects.
$6.99, age 6 & up, book size 8" x 8"
Fun Things to Color A to Z contains 24 pages of quality art paper plus 8 bright, washable markers perfect for little hands to color with. The designs are a great first coloring and learning experience as they cover the alphabet from A-Alligators to Z-Zebras and lots of favorite items in between.
$6.99, age 3 & up, book size 9" x 9"
And there are two new titles in the Take-Along line that's compact and complete so kids can enjoy coloring wherever they go. Each book comes with a set of 3 Faber-Castell Duo-tip markers that can make fine and broad lines:
Construction Zone – color in all the favorite diggers, cranes, trucks and other equipment young builders love
$7.99, age 4 & up
Pet Pals – color in scenes of kids playing with and taking care of pets of all kinds
$7.99, age 4 & up
All Creativity for Kids products are fully compliant with current U.S. toy safety standards.
2011 is a milestone year for our company as we celebrate 35 years of Creativity for Kids! We are proud to consistently provide a quality experience in all areas of business, particularly in developing innovative, high quality arts & crafts products for children. Our products are available all over the world, giving children the opportunity to create, pretend, and play in ways that encourage self-expression and build self-esteem.
# # #