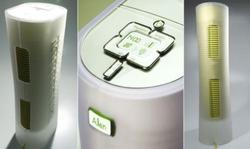 Personally, as a parent of a child with asthma, the design and development of our new lead-free Paralda - the first and only eco-friendly air purifier available on the U.S. market - was a project I was passionate about from start to finish
Austin, TX (PRWEB) September 8, 2008
As summer vacations come to an end, back-to-school time is here for approximately 75.2 million students from nursery school through college, according to 2008 U.S. Census Bureau. However, a 2007 figure from the Centers for Disease Control and Prevention (CDC) shows asthma is one of the most common causes of school absenteeism in children 5 to 17 years of age - and 12.8 million school days were missed by children 5 to 17 in a single school year due to allergies and asthma. Alen Corporation (http://www.alencorp.com), a leading manufacturer of innovative indoor air quality products based in Texas, has unveiled the first and only eco-friendly portable air purifier for homes with children called Paralda. Alen Corp.'s new green air purifier cleans indoor air unlike any other air purifier presently available to U.S. consumers. Paralda is 100% lead free, ozone safe, and Energy Star qualified by the U.S. Department of Energy and the U.S. Environmental Protection Agency.
"Personally, as a parent of a child with asthma, the design and development of our new lead-free Paralda - the first and only eco-friendly air purifier available on the U.S. market - was a project I was passionate about from start to finish," said Peter Mann, CEO of Alen Corporation. "We have designed the 100% lead-free, 'green' Paralda for parents who demand the safest and most efficient indoor air purification system for their children at home. No detail was overlooked in Paralda's developmental phase. We are the only manufacturer is the U.S. that chose to omit lead components from our air purifier - a confirmed lethal substance that does not belong in the home. This is the first green air purifier in the U.S. to combine unparalleled quality, functional style and technologically advanced safe cleaning elements for parent who cares about their child's air quality," concluded Mann.
Paralda's distinctive silhouette, child-friendly components, and category redefining performance abilities were years in development. The powerful four-speed Paralda couples modern design with:

The most advanced HEPA filtration system available;
A patent pending air flow design;
Retractable power cord cable management system for safety;
Light touch activation controls;
Auto-closing cover;
A UV lamp set to last 3 to 5 years;
Ionizer;
The industry's best lifetime warranty;
And an easy-to-use, energy saving 24-hour programmable timer.
Children and adults with asthma or allergies suffering from airborne pollutants such cigarette smoke, pet dander, cooking odors, dust and pollen now have an effective green indoor air cleaning solution. Paralda weighs 17 lbs., is 8"W x 11"D x 28"H, and has power consumption of only 55 watts. It features a translucent outer core with an inner core in bamboo green. It is recommended for bedrooms, play spaces, living rooms, nurseries, kitchens, bathrooms, and home offices. The retail price: $499 U.S.
To purchase a Paralda or for more information visit http://www.alencorp.com/air_purifier_Paralda.asp
About Alen Corporation
Privately held, Texas-based Alen Corporation is a leading manufacturer of innovative indoor air quality products including HEPA air purifiers, portable air conditioners, dehumidifiers, and odor sprays.
Media Contact:
Ria Romano, Partner
RPR Public Relations, Inc.
e-mail: rromano @ romanopr.com
Tel. 786-290-6413
###