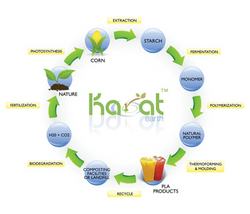 City of Industry, CA (PRWEB) July 15, 2008
As alarming catastrophes brought about by global warming continue to arise, many individuals and companies are adamant in doing their part to save Mother Earth. One such company is CupDepot.com. Known as a wholesaler and distributor of plastic cups and paper cups, this eco-conscious company has taken a step forward in preserving what is left of nature. Just recently, the company has launched its whole new line of eco-friendly products under the brand of Karat® Earth. These eco-friendly products include paper and plastic biodegradable cups, straws, and utensils.
All eco-friendly products manufactured by CupDepot.com are derived from a 100% renewable resource, corn, as it is now used as the main ingredient in the production of eco-friendly products such as biodegradable cups and other plastic wares. Completely biodegradable and 100% compostable, CupDepot.com's eco-friendly products are made of PLA, an eco-friendly alternative to non-biodegradable plastics. These eco-friendly products are similar in quality to traditional and non-biodegradable plastic wares. They have the same clarity and sturdiness, and are odorless and non-allergenic. The main difference is that the eco-friendly products are derived from renewable resources and completely decompose under commercial composting conditions in just 45 to 60 days.
Eco-products already available in the company's web store are 12 - 24oz biodegradable cups, lids, and straws. These biodegradable cups and lids are in standard industry size, making it easier for businesses to switch to eco-friendly products. More so, because CupDepot manufactures its own products, eco-friendly products are offered at factory direct prices. Combined with the company's free shipping policy, these eco-friendly products prove to be a win-win situation - affordable and at the same time, preserving mother nature.
To complete the new line of eco-friendly products, the company will soon add biodegradable paper cups and utensils to its product offerings.
Fast Facts on Karat® Earth Eco-Friendly Products:

Made from 100% renewable resource - corn.
Guaranteed to be 100% environment friendly. PLA products can be completely decomposed under commercial facilities in just 45 to 60 days.
All eco-friendly products can be personalized with the company's logo.
Biodegradable plastic cups boast of a high level of clarity, is odorless and non-allergenic.
Biodegradable paper cups have a superior insulation value. They are heat stable and leak-free.
About CupDepot.com:
Cup.Depot.com is a manufacturer and distributor of paper and plastic goods including eco-friendly products. Headquartered in the City of Industry in California, CupDepot.com offers a complete line of high quality plastic cups and paper coffee cups at very reasonable prices. CupDepot.com is a subsidiary of Lollicup® USA Inc.
###