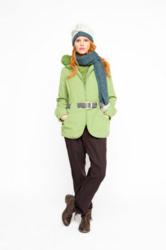 "As the sophistication level of urban fashion rises, Skunkfunk is not just keeping up—we're leading the way
San Francisco, CA (PRWEB) February 11, 2012
ENK shows are where the upscale fashion marketplace assembles to conduct business. Skunkfunk, the eco-conscious fashion company, will unveil pieces from their Fall-Winter 2012 lines at two ENK events this month in both Las Vegas and New York. Skunkfunk will also make an appearance at the Northwest Market Association show in Portland in March.
"As the sophistication level of urban fashion rises, Skunkfunk is not just keeping up—we're leading the way," said Kyle Retzik, owner of Skunkfunk North America. "While our brand has always exemplified high-quality upscale urban fashion, the new Fall-Winter 2012 line clearly shows everything from material choices to design to craftsmanship has been elevated to a whole new level."
Continuing with Skunkfunk's overarching "Fight the Grey" campaign against colorless don't-look-at-me city apparel, the new Fall-Winter 2012 line's eye-catching styles and colors are designed to draw the right kind of attention.
The fashion industry can get a taste of Skunkfunk's new line at the following fashion events:
February 13-15
ENK Vegas Show – Booth # 1040
enkshows.com/enkvegas
February 21-23
New York Fashion Coterie – Booth # 4341
enkshows.com/coterie
Skunkfunk (http://www.shopskunkfunk.com) offers urbanites eco-friendly fashion, including convertible clothing that can be instantly redesigned for different looks and occasions. The Spanish-born purveyor of fine clothing is applauded for its eco-friendly fabrics and ethical distribution practices that harmonize with the environment.
Skunkfunk works hard to bring positive change to three areas of the fashion industry: people, planet and prosperity. Textiles are carefully chosen based upon their impact to the environment, and include recycled polyester, organic cotton, and Lyocell.
RECYCLED POLYESTER
Polyester comes from crude oil, a natural scarce resource with a low renewability ratio. Recycled polyester is processed in a less energy intensive way than creating virgin fibers, and it's a perfect option to give a second life to post-industrial remains or post-consumer plastic waste.
ORGANIC COTTON
Organic Cotton is a natural fiber cultivated without the use of synthetic chemicals, such as pesticides or fertilizers, and is not genetically modified.
LYOCELL
Lyocell is a light and silky textile made from regenerated cellulosic fiber that comes from eucalyptus wood pulp. The biodegradable fiber is extracted under a sustainable closed-loop process that saves energy.
For more information about the ENK shows, the Northwest Market show, or any of Skunkfunk's products, call (415) 692-7678, go to http://www.shopskunkfunk.com, or visit one of their three stores located at 1475 Haight Street (Haight-Ashbury) and 302 Valencia Street (The Mission) in San Francisco or 181 Orchard Street (SoHo) in New York City.
About Skunkfunk
Skunkfunk is a Spanish-born New York and San Francisco clothing store that specializes in environmentally-friendly women's, children's and men's clothing. Skunkfunk has stores in San Francisco, New York City, various European cities and online. Their clothing is also sold in multi-brand stores throughout the United States.
###