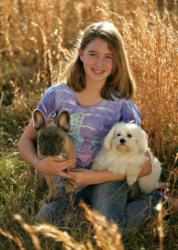 The Eco Green Dog Campaign is for kids, by kids."
- Caroline Combs
Mooresville, North Carolina (PRWEB) April 22, 2013
Thirteen-year old Caroline Combs is a young girl with a big plan: Helping kids rescue animals and the planet with the help of her new animated canine character, "Eco Green Dog."
On Earth Day, April 22, 2013, Caroline Combs kicks off her international kids campaign in her hometown of Mooresville, North Carolina with the official launch of her fun and educational kid's website, http://www.ecogreendog.com. The site, which is packed with kid-friendly eco and animal care tips, features her soon-to-be-released book "Eco-Green Dog: The Adventures Begin", and her online "Cutest Pet Photo" contest. Passionate about saving animals and the planet, the Combs will donate a portion of the proceeds from her first book to animal rescue charities.
Living on a rural lakeshore with over thirty adopted pets, Caroline's world is all about rescuing animals and protecting the planet. Caroline says, "I want to share the importance of protecting animals and our planet with other kids. The Eco Green Dog Campaign is for kids, by kids."
For one month, starting Earth Day and running until May 15, 2013, kids can post their pet photos to Eco Green Dog's Facebook page or at ecogreendog.com. Contest winners will be announced June 1, 2013 and prizes will be awarded. Please visit ecogreendog.com or http://www.facebook.com/ecogreendog for details.
Kids are encouraged to share their "tails" of recycling, reusing and reducing with Eco Green Dog on his Facebook page. Those making a "pawsitive" environmental impact will receive the official Eco Green Dog Cyber-Seal of Approval posted onto their Facebook page. Kids' eco-animal stories will post on Eco Green Dog's website to inspire other kids around the world to make a difference in their community. "Every kid can be an Eco Green Dog kid!" Caroline says, "Imagine, if all kids pitched in, how great our planet could be, for people and animals."
Caroline's passion for recycling and the planet grew from an incident at her grandparent's community pond. "People threw trash into the pond and all the fish died. I realized the importance of respecting the environment and I thought writing a story about that would help kids see what can happen to their animals and how they can help stop it before somebody or something gets hurt."
In the soon-to-be-released book, "Eco Green Dog, The Adventures Begin," the adopted dog Lick has a similar mishap and changes color. "Falling in the pond was a good way to make Lick green," said Caroline, "I wanted the dog to be green because we're always saying 'go green'."
Get ready, animals and the planet, because Caroline is on her way. With her website, upcoming book series, and Eco Green Dog-movement launching on Earth Day, Caroline's attracted media buzz from newspapers and television. Fox News recently featured Caroline, her upcoming Eco Green Dog Book and her kids campaign in this video and article.
"Eco Green Dog – The Adventures Begin" will be available May 2013 on http://www.amazon.com, ecogreendog.com, and at bookstores everywhere.
Caroline loves to be interviewed and wants to visit schools, get kids involved in starting eco-animal projects, start Eco Green Dog fan blogs with their schools and friends, and join Eco Green Dog to make a difference to animals and the planet.
Kids can also "Like" EcoGreenDog on Facebook and follow him on Twitter. To send in pet photos for the contest, eco-friendly stories or say "Hi!" to Eco Green Dog, please visit ecogreendog.com. To request Caroline for interviews, please contact Nancy Shobe, Shobe Biz Communications at shobebiz at gmail dot com.