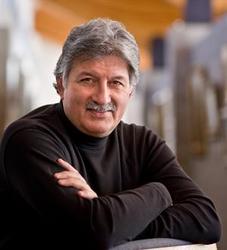 Edward Mazria has had a powerful impact on sustainable housing for more than 35 years
Washington, D.C. (PRWEB) July 17, 2009
Santa Fe, N.M., architect and champion of building energy efficiency Edward Mazria, AIA was named this year's winner of The Hanley Award for Vision and Leadership in Sustainable Housing. Mazria was selected from among 18 distinguished nominees by a panel of judges that comprised Michael J. Hanley, president of The Hanley Foundation; Frank Anton, CEO of Hanley Wood; Steven Winter, FAIA, president of Steven Winter Associates; Allison Ewing, AIA, principal of Hays + Ewing Design Studio; and Sarah Susanka, FAIA, principal of Susanka Studios.
Mazria will receive the award and its $50,000 grant at The USGBC Hanley Award Dinner ceremony November 12 during USGBC's Greenbuild International Conference and Expo in Phoenix.
The judges had their work cut out for them as all 18 of the nominees submitted for the award by the nominating committee have made significant contributions to advancing sustainability in the industry--whether through the homes they've designed and built, their work in research and development, or their efforts to share information through writings and educational outreach.
Mazria's career and contributions span all of these. From his early award-winning architectural work in the 1970s laying the foundation for siting, energy efficiency, and passive solar design to his groundbreaking The Passive Solar Energy Book published in 1979, the concepts, details, and principles developed by Mazria are unmistakable in today's modern high-performance homes.
Over the years, Mazria's architectural work has attracted international attention and his outreach has grown as well. He's taught architecture at a number of institutions, including the University of New Mexico, the University of Colorado, UCLA, and the University of Oregon.
Throughout his career, he's never lost sight of his decades-long mission to improve the environmental performance of our buildings through increased environmental awareness and innovations in design and construction.
It is this crucial concern and critical need that motivated Mazria to suspend his architectural practice in 2002 and form Architecture 2030 (architecture2030.org), a non-profit environmental research and education organization based in Santa Fe. Mazria's research through Architecture 2030 is responsible for placing the building sector at the center of the global warming dialogue. Having shown conclusively that buildings are responsible for half of all U.S. energy consumption and greenhouse gas emissions, Mazria now focuses on providing well-researched solutions wherein buildings move from being a major contributor to climate change to being a key means to addressing climate change and limiting its impacts.
The organization gets its name from its goal--leading the building sector to reach net-zero carbon emissions by the year 2030--and Mazria has laid out a timeline for measuring progress that has been adopted within a wide range of federal and state legislations, and among industry and environmental circles as well.
"Edward Mazria has had a powerful impact on sustainable housing for more than 35 years," said Michael J. Hanley, president of The Hanley Foundation and creator of The Hanley Award. "He has influenced innovative advances in design and technology through his creative architecture, energetic teaching and groundbreaking writing. His current mission with Architecture 2030 brings his vision and leadership to a new level. We are thrilled to name Edward Mazria as the first recipient of The Hanley Award."
The Hanley Award is sponsored by The Hanley Foundation, EcoHome magazine and Hanley Wood. To learn more about the award program and the people involved, visit the EcoHome Web site (ecohomemagazine.com). To learn more about the 2009 Residential Summit and register for the event, visit the Greenbuild Web site.
About Hanley Wood
Hanley Wood, LLC, is the premier media and information company serving housing and construction. Through four operating divisions, the company produces award-winning magazines and Web sites, marquee trade shows and events, rich data, and custom marketing solutions. The company also is North America's leading publisher of home plans. Hanley Wood Business Media (Washington, D.C.), publishes 30 award-winning residential and commercial construction titles, including builder, remodeling, custom home, concrete constructionand residential architect. Hanley Wood Business Media also offers the construction industry's foremost collection of Web sites, including builder online, remodeling online, and ebuild, the comprehensive online guide to building products, as well as the largest collection of house plans online through ePlans.com and Dream Home Source.
Founded in 1976, Hanley Wood is one of the ten largest B-to-B media companies in the United States. Hanley Wood is owned by affiliates of JPMorgan Partners, which uses CCMP Capital Advisors to manage this investment.
About The Hanley Foundation
The Hanley Foundation supports people and programs working to improve education, health care, the environment, and housing, as well as a variety of humanitarian issues. The Washington, D.C.-based Foundation was created in 1999 by Michael J. Hanley, co-founder and retired CEO of Hanley Wood, LLC.
About EcoHome
EcoHome magazine, along with its Web site and weekly e-newsletters, reaches hundreds of thousands of builders, remodelers, architects, and green building specialists with clear and credible information about green building products, outstanding projects, expert advice on building science and construction systems, and up-to-date news about important research, programs and regulations, and rapidly evolving trends. Last year EcoHome magazine won five national journalism awards, including the 2009 Jesse H. Neal Award for best new publication, and ecohomemagazine.com won min's national Best of the Web Award for best new Web site (ecohomemagazine.com).
About Greenbuild
The U.S. Green Building Council's Greenbuild International Conference & Expo convenes the industry's largest gathering of representatives from all sectors of the green building movement. Three days of extensive educational programming, workshops, a vast exhibition floor and ample networking events provide unrivaled opportunities to learn about the latest technological innovations, explore new products, and exchange ideas with other professionals. Greenbuild 2009 will be held on Nov. 11-13, 2009, in Phoenix, Ariz. This past year's conference in Boston drew more than 28,000 attendees and featured more than 800 exhibit booths. Visit http://www.greenbuildexpo.org for more information. To view last year's Greenbuild show, go to http://www.greenbuild365.org.
###