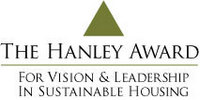 Award nominees have made deep, long-standing and influential commitments to sustainability, and significant and lasting contributions to the widespread implementation of environmental building concepts, techniques and innovations in advancing sustainable
Washington, DC (PRWEB) March 24, 2010
The Hanley Foundation, in collaboration with the U.S. Green Building Council and its Greenbuild International Conference & Expo; EcoHome magazine and Hanley Wood, announced the 2010 Hanley Award for Vision and Leadership in Sustainable Housing. The second-annual award will honor an individual or organization that demonstrates extraordinary, lasting and far-reaching contributions to the advancement of sustainable housing in the United States. The award winner will receive $50,000, the largest annual grant given for advancing sustainable housing. The 2010 award will be presented at the USGBC Hanley Award Dinner at the Greenbuild Residential Summit in Chicago this November and host green building industry leaders from across the country, including executives from leading companies, agencies and organizations active in sustainable housing.
The search for this year's recipient of The Hanley Award for Vision and Leadership in Sustainable Housing has begun with the naming of the 2010 Nominating Committee and the five-person Judges' Panel, each of which will work through the selection process and announce the winner in July. Last year's award and $50,000 grant were presented to pioneering architect, professor and environmental visionary Edward Mazria, who founded and leads the non-profit Architecture 2030.
This year's Nominating Committee comprises Phil Crone, director of green building programs for the Home Builders Association of Greater Dallas; Jean Dimeo, chief editor of the EcoHome Web site; Don Carr, of the NAHB Research Center; and two of last year's nominees: Michelle Kaufmann, AIA, principal of Michelle Kaufmann Studio; and Gail Vittori, co-director of the Center for Maximum Potential Building Systems.
The Judges' Panel consists of Michael J. Hanley, creator of the award and president of The Hanley Foundation; Frank Anton, CEO of Hanley Wood; last year's recipient Edward Mazria; Nate Kredich, USGBC's vice president for residential market development; and Joyce Mason, vice president of marketing for Pardee Homes.
Eligible nominees are residential construction industry professionals, or those working in technical research, product development, educational outreach, environmental advocacy, governmental policy and related areas. Award nominees have made deep, long-standing and influential commitments to sustainability, and significant and lasting contributions to the widespread implementation of environmental building concepts, techniques and innovations in advancing sustainable housing in the United States.
In addition to the candidates to be submitted by this year's committee, three of last year's finalists were chosen by the judges to be carried over to the 2010 competition: Alex Wilson of BuildingGreen, Dennis Creech of the Southface Energy Institute, and Rob Hammon of Consol.
The Hanley Award program and winner will be featured on the cover of EcoHome magazine, on EcoHome's Web site (http://www.ecohomemagazine.com) and in its weekly e-newsletter, EcoHome Update. The Hanley Award program will also be featured in many of Hanley Wood's other 30 award-winning publications and Web sites.
About The Michael J. Hanley Foundation
The Hanley Foundation supports people and programs working to improve education, health care, the environment and housing, as well as a variety of humanitarian issues. The Foundation was created in 1999 in Washington, D.C., by Michael J. Hanley, co-founder and retired Chairman of Hanley Wood, LLC.
About The U.S. Green Building Council
The Washington, D.C.-based U.S. Green Building Council is committed to a prosperous and sustainable future for our nation through cost-efficient and energy-saving green buildings.
With a community comprising 80 local affiliates, more than 18,000 member companies and organizations, and more than 160,000 LEED Professional Credential holders, USGBC is the driving force of an industry that is projected to contribute $554 billion to the U.S. gross domestic product from 2009-2013. USGBC leads an unlikely diverse constituency of builders and environmentalists, corporations and nonprofit organizations, elected officials and concerned citizens, and teachers and students. http://www.usgbc.org
About The Greenbuild International Conference and Expo
The U.S. Green Building Council's Greenbuild International Conference & Expo convenes the industry's largest gathering of representatives from all sectors of the green building movement. Three days of extensive educational programming, workshops, a vast exhibition floor and ample networking events provide unrivaled opportunities to learn about the latest technological innovations, explore new products, and exchange ideas with other professionals. Greenbuild is the three time recipient of IMEX Green Meetings Award and the 2010 show will be held on Nov. 17-19, 2010, in Chicago, Illinois. This past year's conference in Phoenix, Ariz. drew more than 27,000 attendees and featured more than 1,800 exhibit booths. Visit http://www.greenbuildexpo.org for more information.
About EcoHome
EcoHome is the green building professional's first choice for information on innovative green products and sustainable building techniques. Its award-winning editorial content dispels the confusion residential construction pros experience in selecting green products and navigating complex standards, while applying the latest sustainable building practices. http://www.ecohomemagazine.com
About Hanley Wood, LLC
Hanley Wood, LLC, is the premier media and information company serving housing and construction. Through four operating divisions, the company produces award-winning magazines and Web sites, marquee trade shows and events, rich market data and custom marketing solutions. The company also is North America's leading publisher of home plans. Hanley Wood Business Media (Washington, D.C.), publishes 30 award-winning residential and commercial construction titles, including BUILDER, REMODELING, ARCHITECT, residential architect and EcoHome. Hanley Wood Business Media also offers the construction industry's foremost collection of Web sites, including BUILDER, REMODELING and ebuild, the comprehensive online guide to building products, as well as the largest collection of house plans online through ePlans.com and Dream Home Source.
Founded in 1976, Hanley Wood is one of the 10 largest B-to-B media companies in the United States. Hanley Wood is owned by affiliates of JPMorgan Partners, which uses CCMP Capital Advisors to manage this investment.
###