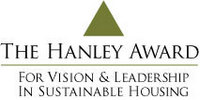 Washington, D.C. (PRWEB) March 18, 2009
Hanley Wood Business Media and its ECOHOME magazine, in partnership with The Hanley Foundation, announce the creation of The Hanley Award for Vision and Leadership in Sustainable Housing. This annual award honors individuals who have demonstrated extraordinary, lasting, and far reaching contributions to the advancement of sustainable housing in the United States. The award winner will receive $50,000, the largest annual award ever established in the housing industry, and the only such award recognizing significant achievement in this crucial area. The first Hanley Award will be presented at The USGBC Hanley Award Dinner in November at the U.S. Green Building Council's annual Greenbuild International Conference and Expo in Phoenix.
Nominations for the award are submitted by members of a select and diverse nominating committee that this year includes national leaders from both the public and private sectors specializing in environmental building, sustainable architecture, affordable housing, building science, energy policy, performance standards and public outreach.
Eligible nominees are residential construction industry professionals, or those working in technical research, product development, educational outreach, environmental advocacy, governmental policy, and related areas, who have made deep, long-standing, and influential commitments to sustainability, and significant and lasting contributions to the widespread implementation of environmental building concepts, techniques, and innovations in advancing sustainable housing in the United States.
A distinguished panel of judges will meet in Washington, DC in June to review and evaluate the slate of nominees according to the program criteria, and select the award winner. The 2009 Hanley Award judges include Michael J. Hanley, co-founder and retired CEO of Hanley Wood and president of The Hanley Foundation; Frank Anton, longtime industry thought-leader and CEO of Hanley Wood; Steven Winter FAIA, environmental building pioneer and president of Steven Winter Associates; Sarah Susanka FAIA, acclaimed architect and author of the best-selling "Not So Big House" and "Home By Design" series; and Allison Ewing AIA LEED AP, award-winning sustainable design architect and principal of Hays + Ewing Design Studio.
The USGBC Hanley Award Dinner will host invited green building industry leaders from across the country, including executives from leading companies, agencies, and organizations active in sustainable housing.
The Hanley Award program and winner will be featured on the cover of ECOHOME magazine as well as covered on ECOHOME's Web site (http://www.ecohomemagazine.com) and in its weekly e-newsletter, ECOHOME Update. In addition, the announcement about the inaugural award will be delivered to more than 360,000 professional builders, architects and remodelers via Hanley Wood's extensive residential and commercial construction networks.
About The Hanley Foundation
The Hanley Foundation supports people and programs working to improve education, health care, the environment, and housing, as well as a variety of humanitarian issues. The Washington D.C. based Foundation was created in 1999 by Michael J. Hanley, co-founder and retired CEO of Hanley Wood, LLC.
About Greenbuild
The U.S. Green Building Council's Greenbuild International Conference & Expo convenes the industry's largest gathering of representatives from all sectors of the green building movement. Three days of extensive educational programming, workshops, a vast exhibition floor and ample networking events provide unrivaled opportunities to learn about the latest technological innovations, explore new products, and exchange ideas with other professionals. Greenbuild 2009 will be held on Nov. 11-13, 2009, in Phoenix, Arizona. This past year's conference in Boston drew over 28,000 attendees and featured more than 800 exhibit booths. Visit http://www.greenbuildexpo.org for more information. To view last year's Greenbuild show, go to http://www.greenbuild365.org.
About Hanley Wood
Hanley Wood, LLC, is the premier media and information company serving housing and construction. Through four operating divisions, the company produces award-winning magazines and Web sites, marquee trade shows and events, rich data and custom marketing solutions. The company also is North America's leading publisher of home plans. Hanley Wood Business Media (Washington, D.C.), publishes 30 award-winning residential and commercial construction titles, including BUILDER, REMODELING, CUSTOM HOME, CONCRETE CONSTRUCTION and residential architect. Hanley Wood Business Media also offers the construction industry's foremost collection of Web sites, including BUILDER ONLINE, REMODELING ONLINE, and ebuild, the comprehensive online guide to building products, as well as the largest collection of house plans online through eplans.com and Dream Home Source.
Founded in 1976, Hanley Wood is one of the ten largest B-to-B media companies in the United States. Hanley Wood is owned by affiliates of JPMorgan Partners, which uses CCMP Capital Advisors to manage this investment.
###