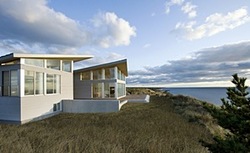 We are thrilled to receive the Grand Award, and have our work singled out as an example of design excellence and sustainability.
Cape Cod, MA (PRWEB) August 26, 2010
The Truro Residence, a modern Cape Cod home by ZeroEnergy Design, won a 'Grand Award' for the 2010 EcoHome Design Awards hosted by EcoHome magazine. Aligned with the magazine's philosophy, the national contest showcases the "best integration of design and performance" from across the country.
The award winning Truro Residence is a modern, oceanfront vacation home perched 115' above sea level overlooking Cape Cod Bay. The home features native landscaping throughout the 1.7 acre site and near zero energy use thanks to a high performance building envelope, a geothermal heating and cooling system, and photovoltaic panels that produce nearly as much energy as the home uses each year.
"We are thrilled to receive the Grand Award, and have our work singled out as an example of design excellence and sustainability," said Stephanie Horowitz, AIA, of ZeroEnergy Design. "Our exceptional team helped to make this home both beautiful and high performance."
EcoHome magazine coverage of the EcoHome Design Awards:
http://mydigimag.rrd.com/publication/frame.php?i=44516&p=23&pn=&ver=swf
Team members:

ZeroEnergy Design | Architecture, Mechanical Design | ZeroEnergy.com
Silvia & Silvia Custom Builders | Construction | SilviaAndSilvia.com
Eleven Interiors | Interior Furnishings | ElevenInteriors.com
Light Th!s | Lighting Design | Light-This.com
Venegas and Company | Kitchen Consultant | VenegasAndCompany.com
Heimarck & Folgia | Landscape Architecture | HF-llc.com
About ZeroEnergy Design:
ZeroEnergy Design creates innovative and environmentally sensible homes. Our multidisciplinary team of architecture, engineering and finance professionals takes a calculated, three-pronged approach to green design and sustainability. This results in high performance homes that holistically appeal to our clients' lifestyles, aesthetic preferences, and environmental ideologies.
http://www.ZeroEnergy.com
###