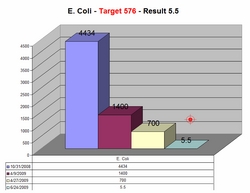 Considering we used an EPA Certified Lab, we are encouraged with these results which confirm what we have seen in other areas
Lake View Terrace, CA (Vocus) June 8, 2010
Organic Environmental Technology (OET) announced today the public release of a Scientific Paper documenting the successful reduction to safe levels of markers for E. Coli, Enterococcus, Total Coliforms and Copper in a field trial they conducted on a public lake with the City of Los Angeles.
"Considering we used an EPA Certified Lab, we are encouraged with these results which confirm what we have seen in other areas," stated Paul Scholz, one of the principals of OET.
Scholz continued, 'This probiotic water treatment technology contains a unique formulation of naturally occurring life sustaining bacteria and have been shown to be effective in brackish wetlands and tidal waterways, freshwater lakes and rivers as well as in the treatment of hog and poultry farm effluent lagoons. These probiotic bacteria convert toxins and pathogens to life supporting nutrients such as amino acids, sugars, enzymes and anti-oxidants – which cancel odors at a molecular level. They also have been demonstrated to safely bioremediate underground plumes of toxic solvents such as TCE and likewise would be effective in mitigating the poisonous compound PERC, a chemical formerly used in the dry cleaning industry documented to have leaked into the ground water table around many dry cleaning sites.
"This is also a very cost-effective technology when compared to existing solutions which makes it a viable alternative to consider.
About Organic Environmental Technology Inc. and Effective Environmental Services:
Effective Environmental Services (effens.com ) is a d.b.a. of Organic Environmental Technology (http://www.organicet.com/ ), a privately held company in Lake View Terrace, California. For more information, they can be contacted at 888-524-5000.
###