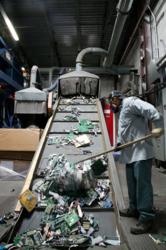 We're extremely pleased with the success of the ecollective program, which is fulfilling a valuable role at both the state and local levels.
Santa Clara, Calif. (PRWEB) July 20, 2011
The successful ecollective e-waste recycling network is seeing dramatic increases in material harvested from southern California as it continues to expand the consumer-focused service that makes it easy and safe for Californians to dispose of electronic waste. Since the launch of the ecollective initiative statewide in October 2010, the number of authorized ecollective e-waste drop-off locations in the southern half of the state has increased from 30 to 111, providing an essential service to residents and businesses in southern California looking to recycle TVs, computer monitors, computers, printers, and a range of other electronics.
Since October 2010, over 2.5 million pounds of e-waste have been recycled through ecollective locations in Southern California, and 13 million pounds statewide. Now, almost 300 ecollective e-waste drop-off locations are available statewide, providing more than 10 million California households easy access to a nearby location for safe and secure recycling of obsolete and unwanted electronics. The ecollective program is a leading contributor to the state's SB-20 e-waste recycling initiative.
The ecollective program provides valuable incremental revenues for local businesses and charities
The ecollective slogan, "Take it back for good," is also resonating with local charities and non-profits, which can offer e-waste collection as a valuable service for their local community. Ecollective locations are paid a fee for TVs, computer monitors and other electronics that are sold to ECS Refining. Examples of local businesses that have integrated e-waste recycling into their operations are Komputers 4 R Kids of Cerritos and the University of San Diego, both of which are deriving thousands of dollars every month by recycling e-waste through the ecollective program.
James Watson founded Komputers 4 R Kids (http://www.k4rk.com) to provide local high-school children and college students with valuable work experience and hands-on instruction in refurbishing unused computers. Three unified school districts now send their kids to Komputers 4 R Kids, while local colleges depend on the facility to enable their students to advance toward IT qualifications. Watson registered his business as an ecollective location in order to more easily recycle end-of-life computers. "We receive computer equipment from local cities and businesses, refurbish it, and make it available to local schools at a nominal cost. Some computers simply cannot be refurbished, and being an ecollective makes it easy for me to safely dispose of these items and derive revenues that substantially offset my operating costs," he said.
As director of sustainability at the University of San Diego (http://www.sandiego.edu), Michael Catanzaro sees the ecollective program as a way to get rid of e-waste in an environmentally, financially and socially responsible way. "We became an ecollective member to meet the needs of the campus and the greater San Diego community. Estimates vary, but, almost everyone is in agreement that most of the consumer electronic products manufactured in the last 10 to 20 years are sitting in homes, offices and garages — waiting to be disposed of responsibly. Setting up an e-waste collection center here at USD was an obvious step," he said. "The money that the university makes goes solely to two things: sustainability funding and student scholarships. After we pay for the center to be open, we take the money and put it towards student scholarships for the university. It's great to be able to do something good for the environment that is socially responsible and have a positive impact financially for the university."
"We're extremely pleased with the success of the ecollective program, which is fulfilling a valuable role at both the state and local levels," said Jim Taggart, president of ECS Refining, the company that designed and operates the ecollective e-waste recycling initiative. "We're continually adding new ecollective locations to our network to make it even easier for anyone to get rid of unwanted electronics. And, we've opened a state-of-the-art recycling plant in Stockton that will enable us to better refine e-waste into its constituent parts, ready for re-use by manufacturers."
Ecollective fast facts
The ecollective program is operated by ECS Refining, an electronics recycler renowned for its ethical and environmentally responsible approach to recycling.
Program initiated: October 2010
Current number of ecollective locations statewide: 286
Pounds of e-waste processed, to date: 13 million pounds. With the volume of electronic waste continuing to rise in California, ECS Refining recently opened a facility in Stockton that will be the largest and most modern integrated electronics recycling facility in the nation.
How to find an ecollective drop-off location, and what to expect when you get there
It's easy: visit myecollective.com, enter your zip code, find your closest ecollective location, and then "take it back for good." The ecollective program is designed to take back most kinds of unwanted and obsolete electronics. If it plugs into the wall and you use it to communicate, gather information, store data, or enjoy media and entertainment, it's probably part of our program. TVs, monitors, computers, cell phones are the most commonly accepted items. For a complete list: see what we recycle. All ecollective drop-off locations send e-waste to a state-approved e-waste recycling plant operated by ECS Refining, which uses advanced and environmentally friendly e-waste recycling techniques.
E-waste is a growing global problem that requires sustainable, local solutions
70 percent of e-waste gets stockpiled because it is not easy to safely dispose of it — and only 15 percent ever gets recycled. The Environmental Protection Agency has just added the disposal of e-waste to a list of the agency's top four environmental priorities, alongside issues such as climate change, air quality and access to clean water. More and more states are passing legislation to support recycling e-waste. ECS Refining, the company behind ecollective, sees this growing awareness of the e-waste problem as an opportunity to tackle this international challenge, and is forging partnerships with industry players, fostering best practices among them, and driving public outreach and education.
How to connect with ecollective
Watch our helpful YouTube video. For the nearest e-waste drop-off location, visit myecollective.com. Spread the word! Tell your family, neighbors, friends and workmates about ecollective with our Facebook and Twitter pages.
About ECS Refining
ECS Refining is a recycling and end-of-life services company specializing in electronics, industrial equipment and hazardous wastes. Utilizing a variety of approaches, including recovery and refining, asset management, and refurbishment and resale, we are dedicated to optimizing our services for a sustainable outcome. Because we work with such a wide variety of materials from hundreds of different sources, and have strong connections with partners both upstream and downstream, we're adept at applying our skills and knowledge to formulate smart and planet-friendly solutions for our customers. Recycle responsibly. Recycle with ECS Refining. For more information about our operations and the latest news from ECS Refining, visit our website, blog, Facebook page, and Twitter page (@ecsrefining).
###