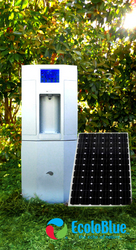 Leading the Water Solution Revolution
Miami, Fla. (PRWEB) June 11, 2010
NOAA Predicts EXTREME 2010 Hurricane Season. EcoloBlue Atmospheric Water Generators provide pure drinking water from the humidity in the air. Smart hurricane preparedness requires water independence.
Prepare you and your family now. NOAA warns of an extremely active 2010 hurricane season. The tragedy in the Gulf continues with no end in sight. Pure and readily available drinking water is the most necessary part of your hurricane/disaster kit - "at least 1 gallon daily per person for 3 to 7 days."
In any disaster, water can quickly become contaminated and unsafe to drink or simply unavailable. Past disasters have shown that the inability to obtain clean drinking water is the leading cause of post-disaster death. EcoloBlue is leading the Water Solution Revolution with the EcoloBlue Atmospheric Water Generator technology. EcoloBlue AWG's provide up to 8 gallons of water at 20 cents a gallon with no water hook up required. It is the Peace of Mind Water Cooler. The EcoloBlue 12-stage filtration process guarantees that you have pure drinking water at anytime.
EcoloBlue Life & Energy now offers total off-the-grid technology with the EcoloBlue 30 Deluxe Solar Package.
The EcoloBlue 30 only requires 300 Watts to operate efficiently. The EB30 is specially equipped to efficiently operate at a lower consumption rate when attached to a Solar Power source. The EB30 Deluxe Solar Power Package will allow the EB30 to generate between 1-3 gallons of water per day depending on relative humidity and sun conditions. This solution is intended for Emergency or Off-Grid use. This modular kit can be expanded depending on individual needs by adding extra solar panels and batteries to allow for longer runtime - giving you and your family peace of mind, complete off-the-grid Water Independence, and sustainable preparedness in any time of crisis.
About EcoloBlue Light & Energy: The company offers a sustainable product line that includes solar, wind, water and biodegradable plastics - with a major emphasis on renewable water filtration, purification and delivery. For more information visit EcoloBlue.com or call (800) 691-6043.
The EcoloBlue 30™ is a sleek, state-of-the-art atmospheric water generator that eliminates reliance on municipal water systems, well water or any other standard water source. Air is the only water source required for the EcoloBlue 30™. Once it pulls humidity out of the air, it filters and purifies the water. The EcoloBlue 30™ sustainably delivers a continuous supply of delicious, 99.9% pure water quietly, energy efficiently, without plastic bottles. Now complete with solar option.
Hurricane Preparedness
http://www.EcoloBlue.com
###