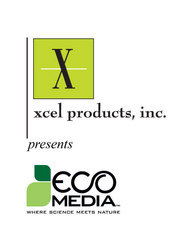 Brooklyn Center, MN (Vocus) May 27, 2010
Xcel Products, Inc. continues its commitment to excellence and innovation with the recent agreement with YoBo, LLC, naming Xcel as the Exclusive Manufacturer and Converter of the EcoMedia™ product line.
EcoMedia™ is a revolutionary line of non-pvc films designed for large-format printers utilizing UV-cured inks. EcoMedia™ products are designed and formulated to be environmentally responsible without compromising quality, performance or functionality. The products are constructed from a co-polymer blend that is both recyclable and degradable. EcoMedia™ 15-mil Blockout delivers high-performance with 2-sided printability, outdoor strength and stability making it the perfect cost-effective alternative to traditional PVC Banner.
Xcel's initial product offering will be the EcoMedia 15-mil Blockout Banner. The media will be stocked in rolls of 37", 54" & 74" widths by 50-yd and 250-yd lengths. Xcel offers custom sheeting and slitting for non-standard sizes.
About Xcel Products, Inc.:
Xcel Products, Inc. is the leading manufacturer and custom converter of innovative print and magnetic receptive media solutions for the P-O-P and P-O-S markets worldwide. A one stop resource, Xcel Products, Inc. is uniquely qualified to serve all of your printable media needs. From manufacturer to product developer to authorized sales agent – we can easily manufacture and/or design the solutions you are looking for. Xcel Products aspires to be synonymous with service excellence. In every aspect of our operation—customer care, sales, accounting, production and shipping—Xcel's goal is to exceed customer's expectations.
EcoMedia™ was originally launched in October 2008 by EcoMedia Corporation. YoBo, LLC has since purchased all intellectual property of EcoMedia Corporation; including, name, trademarks and formulas.
All images, registered trademarks and trademarks are property of their respective owners.
###