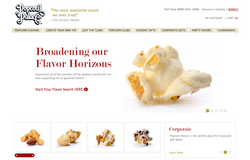 Chicago, IL (Vocus) November 9, 2010
Gorilla, an award-winning, ecommerce solutions provider, has announced the launch of the completely redesigned Popcorn Palace, destination site for the gourmet snack maker, which was named to Inc. Magazine's Top 100 fastest growing U.S. food & beverage companies. With brand advocates ranging from Food Network and Chicago Tribune to Warren Buffet and Al Rocker, Popcorn Palace partnered with Gorilla to implement a front-to-back ecommerce solution that supports, and accelerates, their rapid growth. The new site delivers a stronger product and brand focus, simplifies user interactions across customer segments and provides Popcorn Palace a flexible framework for product, content and systems management throughout the site's lifecycle.
To capture the spirit of products that are high-quality and sophisticated, yet inherently playful, Gorilla implemented a design concept that incorporates a clean, refined palate centered on newly created product artwork. The vibrant imagery, showcased in this context, works not only to convey virtually every nuance of their mouth-watering popcorn creations, but to define the essence of the brand as well.
Gorilla redesigned the site to streamline the user experience across each of Popcorn Palace's primary customer segments: direct-to-consumer, corporate gift giving and fundraising. Intuitive navigation allows direct consumers to design and buy a gift box in as few as 4 clicks. An enhanced customer account page auto-populates returning user information and automatically notifies customers if they have unused store credits. While corporate and Fundraising customers are provided with a newly created dashboard to simplify account management for tracking, auditing and reordering.
Developed on the .net platform, Gorilla completely rebuilt the site's Content Management System, which incorporates custom templates to give Popcorn Palace increased flexibility to enhance site content and maintain branding after launch. To unify the site with the company's back-end systems, Gorilla integrated UPS and Stamps.com to manage logistics, NPC Secure for secure payment processing and Silverpop, linked to the site's CMS, to facilitate digital marketing. Next phase enhancements include Fishbowl inventory management integration and a powerful workflow engine to administer complex transactions across the order process, further enhancing the site.
Deploying an array of creative solutions designed to meet their specific business needs, Gorilla has provided Popcorn Palace with a robust online channel, as unique and distinctive as their 27 delicious popcorn flavors.
About Gorilla:
Since 1994, leading brands, retailers, manufacturers and wholesalers have turned to Gorilla to solve the toughest ecommerce challenges and innovate solutions that elevate businesses across channels. Inspiring design, impeccable development and unmatched experience are why Gorilla delivers a smarter species of ecommerce. http://www.gorillachicago.com
###