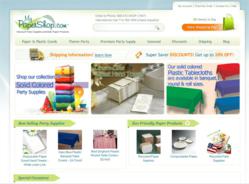 "We use our Professional Services Department to conceptualize and define state-of-the-art ecommerce design," says Rick Wilson, Miva Merchant President and COO. "The new My Paper Shop.Com launch exemplifies this, and achieves both of these goals."
San Diego, CA (PRWEB) April 19, 2012
Leading ecommerce software and hosting company, Miva Merchant, recently partnered with bulk party supply seller My Paper Shop.Com, to launch a redesigned version of their ecommerce store.
"Our product base has increased over the years as our business has grown, but our current site wasn't taking full advantage of the most updated version of the Miva Merchant software," says Todd Theodossin, My Paper Shop.Com founder. "As a result, our site performance and conversion rates were slowing down. I went directly to the Miva Merchant Professional Services Department to have the site rebuilt and redesigned, and was very impressed and happy with the overall experience."
The site has also been upgraded to the latest, recently updated version of Miva Merchant's core software, and has both a slight rebranding and a new look and feel, complete with a background that changes color seasonally, redesigned product pages for optimized conversions, and a redesigned global navigation.
"Since our recent 5.5 PR8 Update 5, we have seen many of our customers take advantage of the newly-built-in features and functionalities," says Rick Wilson, Miva Merchant President and COO. "We use our Professional Services Department to conceptualize and define state-of-the-art ecommerce design and to help storeowners take full advantage of our software. The new MyPapershop.Com launch exemplifies this, and achieves both of these goals."
About Miva Merchant:
Miva Merchant offers a complete ecommerce solution consisting of PA-DSS validated shopping cart software, PCI compliant ecommerce hosting, credit card processing services and custom website design & development. Over 50,000 merchants use Miva Merchant's highly customizable, intuitive and scalable ecommerce software. These merchants range from hand-selected boutique product stores to manufacturers directly integrating their manufacturing with distributor access and an online retail presence.