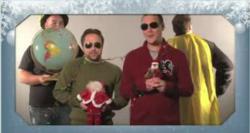 This webinar aims to share numerous quick-hitting tactics that any e-commerce website can use to improve its bottom line.
Cleveland, OH (PRWEB) September 21, 2011
According to Forrester Research, e-commerce sales are forecast to grow to the tune of 10% each year through 2015. Given today's numbers, total online sales in 2015 would reach $279 billion. Marketing managers of e-commerce websites that are looking for new ways to attract motivated customers online are encouraged to check out Fathom's new guide and upcoming webinar: "E-commerce Holiday Success: 107 Tips for Results that Matter." The webinar takes place on Thursday, September 29, from 1:00-2:00 p.m. EDT.
The hour-long webinar, conducted by Fathom's Matt Mesenger, Director of E-Commerce, and Kurt Krejny, Director of Online Marketing, will cover everything from managing shopping cart abandonment to increasing average order values. Participants will learn about improving their website's conversion rates, increasing its visitors, and encouraging repeat visits. Whether "e-tailers" need general strategy for the gift-giving season or are looking for more specific pointers to increase online visibility or the percentage of shopping-cart completions, the webinar and guide will have something for everyone.
"A lot of little things that go a long way can get overlooked in the vast e-commerce universe," said Mesenger. "This webinar aims to share numerous quick-hitting tactics that any e-commerce website can use to improve its bottom line."
Capitalizing on the expanding e-commerce market should be a priority for all B2C businesses in advance of the upcoming holiday season. Time still remains to plan a promotion strategy, and the Fathom e-commerce guide and webinar can aid in this process. Users that are unable to attend the Thursday, September 29th webinar may still download the free guide or access a permanent link to the post-presentation recording after filling out a registration form.
About Fathom
Established in 1997, Fathom is a full-service digital marketing company that delivers measurable results that matter: leads that buy and profitable revenue. Fathom's 300+ clients range from middle-market companies to large global enterprises. Industry specialties include B2B, B2C, healthcare, manufacturing, IT/software, education and e-commerce.
Whether engaged in SEO, paid search, email, or video production, Fathom customers recognize that Internet marketing is the most efficient and profitable way to reach and convert their target audiences, and they bank on Fathom's reputation, expertise and commitment to achieving their business goals.
The company currently has 130+ employees and is headquartered in Valley View, Ohio.
###