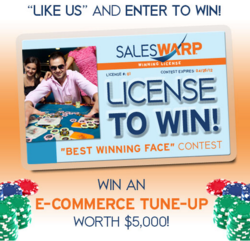 SalesWarp streamlines your E-commerce operations to help increase sales and reduce costs
Baltimore, MD (PRWEB) April 04, 2012
6th Street Commerce, an expert at simplifying E-commerce for retailers, announced the launch of their SalesWarp "License to Win" contest on Facebook where they are giving away a $5000 E-commerce Storefront Tune-Up.
To enter, an employee of an online retail business must upload their best winning face and then share with their friends to get them to vote. The photos with the most votes become finalists. The License to Win concept is play on the funny faces you see on drivers licenses and the way SalesWarp sells its products – via an annual license.
"Our main goal with the contest is to generate awareness of SalesWarp by engaging online retailers in a fun way. The winner will get an opportunity to see how SalesWarp can improve how they build and manage their online store" states David Anderson, Vice President of Marketing at 6th Street Commerce. "The E-commerce Tune-Up will look at all the key strategies and technologies needed for a successful online business". Some of the areas the E-commerce Tune-Up would address include:

Magento Customizations
Performance Tuning
Inventory Management
Pricing Strategies
Product and Category Management
Data Feeds
SEO
Warehouse Integration
Order and Fulfillment Management
To enter the contest, visit Saleswarp's Facebook page. To learn more about how SalesWarp can help you get products to market sooner, increase sales while reducing operational costs, visit http://www.SalesWarp.com or call 410.276.4600 to speak to one of our Consultants.
About 6th Street Inc. (http://www.6thStreetCommerce.com)
6th Street Commerce helps online retailers simplify E-commerce. Through its proprietary software platform, SalesWarp™, retailers can build and manage their online stores by integrating all of their critical back-end business systems (ERP, inventory, POS, CRM, financial, order processing and shipping) needed to successfully run an E-commerce business. Through this advanced automation, retailers are able to get their products to market sooner, increase sales, generate greater revenue while reduce operating costs in all areas of their online operations.