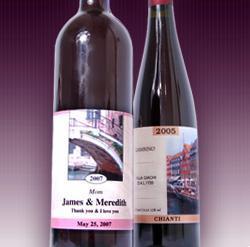 Our inbound calls have increased by more than 200%, and the number of new customers has doubled in one year.
Kirkland, WA (PRWEB) March 12, 2008
EPORIA, LLC, a leading web design and development company specializing in ecommerce, has launched its newest component, the Imprint Designer™. This tool enables mass customization of promotional products, empowering any custom printer to sell custom products online.
Custom label printer Century Marketing is already using EPORIA's Imprint Designer at their ecommerce website, http://www.printmything.com. The tool allows web visitors to create their own designs for printing on any of the thousands of products carried by PMT.
Melissa Kuhl is the Director of Ecommerce for PrintMyThing's parent company, Century Marketing. She relates the result of implementing the Imprint Designer alongside EPORIA's other ecommerce tools: "Our inbound calls have increased by more than 200%, and the number of new customers has doubled in one year."
Click here to see Case Study.
Using EPORIA's Imprint Designer™ with its unique, patent pending technology, visitors to PrintMyThing.com are able to personalize any product to suit individual needs. Would-be designers are able to load art or create it on the fly. They have the opportunity to manipulate the picture, colors, text, and fonts to create a truly personalized product. Ecommerce customers see their creation in real time and have the option to order the customized product on the spot.
Once the custom design is created, proofed, and approved, the tool generates a print quality, vector based art file ready for production. The file can be sent directly to the printer, or to an art department for quick review. The file can be opened in Illustrator for approval and then forwarded to print. No file conversion is necessary.
Behind the Imprint Designer is an integrated suite of ecommerce website management tools. PrintMyThing's extensive, complex product base is presented elegantly, with every conceivable purchase combination accounted for and priced accordingly.
Easy navigation and a robust checkout process make buying easy and raise conversion rates dramatically. For site maintenance, EPORIA's 'No Code' (content management tools) make the site simple to maintain.
Century has seen increased productivity and generous return on their investment. In fact, Kuhl clarifies, 'The feature set was better than every other solution we explored, at a fraction of the price.'
For additional information on the new Imprint Designer from EPORIA, contact Christina Scott at 425-284-3444, or visit http://www.eporia.com .
About EPORIA:
EPORIA provides ecommerce web site design solutions for both B2B and B2C industries. Easy-to-use content and product management tools are designed for fast and affordable deployment of commercial grade ecommerce websites. Users are able to change both fixed and promotional content anytime, anywhere, from any computer with internet access.
For more information, contact:
Christina Scott
EPORIA, LLC
http://www.eporia.com
877.276.2402
info @ eporia.com
###