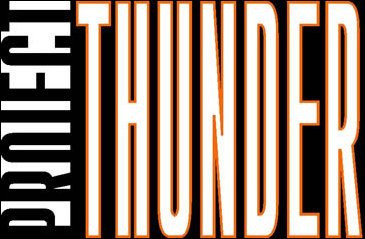 It's time someone explained the voodoo behind successful e-commerce solutions.
Tarzana, CA (PRWEB) December 5, 2006
E-commerce and web technology company, ProjectThunder, Inc., announces its release of E-Commerce Unveiled - Secret Strategies Used by Innovative Marketers to Turn Web Browsers into Buyers. "It's time someone explained the voodoo behind successful e-commerce solutions." said ProjectThunder CEO, Calvin Luttrell who co-authored the eBook with online marketing consultant Sonya Neblett.
The eBook features information about leading e-commerce technology tools as well as tips, innovative strategies and best practices for successful online marketing campaigns. E-commerce Unveiled also unveils the truth about technology solutions and how to avoid becoming obsolete in an ever-changing online shopping environment.
E-commerce Unveiled offers "insider's secrets" on when and how to best use technology to increase sales, average order value and overall conversion in an online retail environment.
"We talk about search and merchandising solutions like Nextopia and Mercado; cutting-edge web site feature applications like Cleverset's cross-sell modules; software solutions for ppc and shopping comparison management from Merchant Advantage; product review software like Bazaarvoice; and Stone Edge's order management system for order management," said Luttrell. "We are in the unique position of knowing what works and what doesn't in an E-commerce environment. We felt it was time to share our combined knowledge."
The eBook can be purchased from ProjectThunder.com and is slated for distribution on Amazon.com.
To compliment technical details marketing consultant, Sonya Neblett, offers invaluable resources for online marketing "best practices" and tips on free and low-cost marketing channels that work. "When companies think outside the box, they often find they are able to create exciting new marketing channels that drive sales and increase ROI," said Neblett. "This book is for the beginner and the experienced online business owner. It's packed with information and combines new technology with marketing strategies that any web site owner can use to achieve success."
"Success is in the details, we had to write about a lot of different topics!" said Luttrell when commenting on the wide range of topics covered in E-commerce Unveiled. "We are really striving to bring together the best of both worlds - technology and marketing. One without the other just doesn't work in an online environment. In the book we call it the 'Science of Success.'"
"We created E-commerce Unveiled because we saw a gap, a need in the market that wasn't being filled," said Neblett. "Online retailers struggle with merchandising and increased competition from globalization and a slowing economy. The information in this eBook serves as a map to increase sales and growth over time."
E-commerce Unveiled offers up needed e-commerce information from the combined experience of Calvin Luttrell and Sonya Neblett. Luttrell, a long time Microsoft Developer and consultant spent many years at GoldMine Software, where he was a trusted adviser and provided training to companies like Grolier Encyclopedia, GE Capital, MapQuest, Gipson Guitars, Spinning, Palm, Playboy Entertainment and many others. Luttrell engineered software for companies such as GoldMine Software, HFPA (Golden Globes), 1800-DENTIST, NAC Marketing and PacifiCare.
With a background in publishing and marketing, Sonya Neblett currently serves as the marketing coordinator for pure play E-Commerce Retailer Specialty Living, Inc., runs the marketing blog http://www.TrulyTwistedMarketing.com, owns IndigoSkyDesigns.com and is dedicated to helping businesses grow on the web.
Direct Purchase link
Affiliate Program
About ProjectThunder
ProjectThunder is dedicated to positioning itself as the leader in e-commerce technology applications offering world class e-commerce and web solutions through quality partnerships. An engineering company with business intellect, ProjectThunder, Inc. was founded in 2004 and is based in Tarzana, CA.
All trademarks used are properties of their respective owners.
# # #