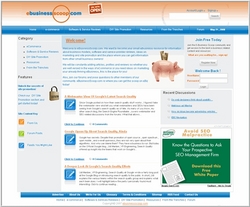 This will not be a formal website jam-packed with complex verbiage, it will be easy to read, understand and digest and there will be voices from the experienced and the rookie. We will also have a unique look and feel that will be supported with interesting graphics and layouts as well as original stock photography to support the modern and somewhat kitsch feel
Tampa, FL (PRWEB) May 23, 2008
eBusinessScoop.com, a content portal for small eCommerce business owners, is proud to announce its launch! eBusinessScoop is designed to help small ecommerce business owners, decision makers, IT professionals and more to find information they need about how to succeed on the web.
eBusinessScoop invite these business owners to join and participate in a community of like-minded professionals who can share ideas about marketing, customer service, online retail and more. Alternately, eBusinessScoop.com is a valuable source of information for service providers, developers and software manufacturers who are looking for information from the small business owners who use their products every day.
Blair Stephens, co-founder and principal editor of eBusinessScoop explained, "My business partner and I are eCommerce business consultants and we noticed how difficult it was for small business owners to find real information out there about topics that seriously impact their business. Whether they were choosing an ERP program, or an e-newsletter provider, finding decent product and service reviews, or just having a place to share ideas - we didn't have anywhere to point them, so we created a place!"
The goal of eBusinessScoop.com is to form a collaborative space where users can subscribe and participate by responding to blog posts, post reviews and feedback and engage with the eBusinessScoop team to make the site a truly organic and accurate cross section of reviews and ebusiness information.
Stephens continued, "Small business owners want to make money, improve efficiency and reduce their own workload. They want ideas they can implement and sound independent advice and information so they can invest wisely. Additionally, they need a resource on choosing service providers or how to move forward with niche web marketing, which is a trend we strongly believe in. All of this will be supported by a resource center with a large glossary, basic how to tutorials and book reviews."
eBusinessScoop.com is organized into several categories including eCommerce, Software and Service Reviews, Resources, DIY Site Promotion and From the Trenches. eCommerce is organized by business model, Resources holds a 1500 term business glossary as well as beginner articles and basic How To's, DIY Site Promotion holds articles about small eCommerce business marketing topics and From the Trenches will be filled with profiles and articles about real small business owners and their challenges.
"This will not be a formal website jam-packed with complex verbiage, it will be easy to read, understand and digest and there will be voices from the experienced and the rookie. We will also have a unique look and feel that will be supported with interesting graphics and layouts as well as original stock photography to support the modern and somewhat kitsch feel," concluded Stephens.
About eBusinessScoop.com
eBusinessScoop.com is the product of two eBusiness Consultants who wanted to create a better and more thorough venue to answer the questions of eBusiness owners everywhere. Andrew Shelton and Blair Stephens have both worked closely and tirelessly with small business owners who are plagued with the need to manage a business in the midst of the mercurial world of eCommerce. eBusinessSccop.com provides unbiased reviews, business analysis, marketing and promotion ideas and first person stories from other small businesses in the trenches. eBusinessScoop wants to provide you with the information and community you've been looking for so poke around, comment, join and enjoy.
# # #