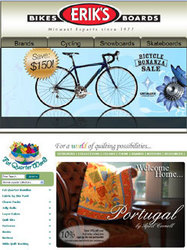 Rochester, NY (PRWEB) September 3, 2008
UniteU Technologies, Inc., a leading provider of integrated, on-demand e-commerce applications, announces the recent launch of two new online retail sites.
The first one is Erik's Bike Shop (EriksBikeShop.com). This is Erik's 30th year in business. Erik Saltvold opened his first bike shop at the age of 13. He bought 150 used bikes, fixed them up, and sold them all. Today Erik employs up to 200 people and has 15 store locations, 13 in Minnesota and two in Madison, Wisconsin. His selection of products and services focuses on bicycling, snowboards, skateboards, and all the gear that goes with them.
UniteU site functionality highlights include: Flash intro with sound, Filtered Navigation Search, POS integration with In-stock/out-of-stock notification and Follow-me-basket.
Fat Quarter World (FatQuarterWorld.com) is the second site. They offer premium quality quilting fabric and specialize in Moda fabrics, jelly rolls, and charm packs, but also feature a wide variety of styles and brands. They allow the "Shop Your Way" (by color, theme, or brand). Located in Spring, Texas the company ships world wide and most orders are shipped same day.
UniteU site functionality highlights include: Advanced roll out navigation, SEO Design and Checkout Progress Indicator. The project also included Retail Pro POS integration with automated In-stock/Out-of-stock notification and orders are automatically delivered from the shopping cart to Retail Pro.
These two merchants are examples of serious online retailers who selected UniteU as their ecommerce solution provider because of their proven ability to meet the demands of the rapidly changing ecommerce market. UniteU customers stand out to the online shopper, thereby increasing online sales and converting web site visitors into loyal, repeat online shoppers.
About UniteU :
UniteU (Uniteu.com) is a recognized leader in on-demand ecommerce that empowers specialty retailers to create and manage online growth. Our mission is to harness the Web's power to bring revenue to retailers. Our ability to accomplish this is demonstrated by our merchants' success. We have powered startups who reached the pinnacles of top 100 status and we have rescued merchants who outgrew competing systems. The UniteU Connected Commerce platform adapts and scales to meet the ever-changing needs of multi-channel retailers; supporting custom designs, integration, rich media, advanced promotions, multiple payment and shipping options and intuitive search and navigation capabilities. After working with hundreds of retailers, UniteU also retains valuable expertise, offering premier managed hosting, web analytics, in addition to e-business consulting and web marketing services that drive traffic, conversions and retention.
###