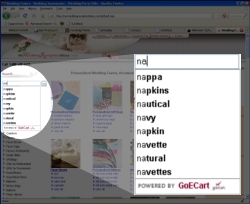 Bridgeport, CT (PRWEB) September 15, 2009
GoECart®, a leading provider of on-demand ecommerce solutions, today announced the availability of enterprising new internal site search functionality for online stores. Dubbed 'High-Performance Ecommerce Site Search,' the new functionality is designed to help internet shoppers find products more efficiently, resulting in more sales for ecommerce site owners. The feature not only helps merchants increase conversion rates and average order value (AOV), but it helps them build customer loyalty as well.
GoECart's CEO Manish Chowdhary said, "A fast and highly relevant on-site search experience is absolutely essential for merchants serious about competing in today's maturing ecommerce markets. GoECart has taken this critical success factor a step further with an exceptional site search engine that not only delivers highly relevant results, it actually guides the shopper very quickly to the products they want based on search terms entered, no matter how large the online product catalog."
The new capability should prove to be a boon for web retailers and couldn't come at better time. Leading industry analysts and usability experts agree that effective site search is more important than ever in helping shoppers locate the products they seek. In fact, a recent study from research firm MarketingSherpa said that over half of all online shoppers go immediately to a site's local search engine when arriving at a web storefront. This statistic supports the notion that an intuitive site search capability has a direct correlation to web sales.
The High Performance Site Search functionality is available in GoECart 8, the latest version of the company's ecommerce solution. Ideal for merchants large and small, GoECart 8 combines over 250 award-winning ecommerce software features with a highly customizable web storefront, enterprise-class site hosting (99.9% plus uptime), and an award-winning shopping experience for customers.
The company leveraged the assistance of usability experts in designing its High Performance Site Search capability, which is a result of extensive research and development. Highlights of the solution include:

Super-fast-loading (pre-indexed), comprehensive, and highly relevant search results
A guided navigation hierarchy option that presents items directly relevant to customer searches
Faceted Search - search refinements based on product attributes
Support for any-word, all-word, and exact-phrase searches
Support for a full range of parametric search criteria, such as minimum price, maximum price, brand, product size, colors, etc.
A spell check function that offers suggestions for and auto-corrects misspelled search terms
The ability to monitor search keywords and customer behavior patterns
The ability to customize the search results page to address zero-results scenarios
AutoComplete keyword suggestion feature (like Google™ and other leading search engines)
Automatic content spotlighting
Integration with Google Analytics
Super-fast AJAX based search results page updates without page refresh
Perhaps the most interesting component of the High Performance Site Search feature is its guided navigation or parametric search capability. This allows the merchant to present the online shopper with an actual listing of categories and options related to a search term. For example, if an online shopper types, "Digital SLR Camera" into the search box, the customers is presented with a host of dynamic refinement options based on product attributes. This allows them to drill down to the exact type of digital camera for which they are searching, such as Brand, Megapixels, Optical Zoom, Display Size, and Price.
In addition, the shopper can even drill down by customer review and product rating. This is very effective in helping the shopper zero in on an exact product and price point, even if there are an initially overwhelming number of choices. This functionality provides for a superior shopping experience, builds customer loyalty, and is right in line with GoECart's Sell more™ online merchandising mantra of matching buyer intentions and merchant goals. GoECart helps merchants Sell more items by making sure their customers can quickly find what they're seeking.
Long-time GoECart customer, CostumeZone.com, recently implemented the functionality on their site and quickly realized an increase in revenues since implementing the functionality. CostumeZone.com CEO Jonathan Biggs said, "The advanced site search functionality has been a real boon for us. It was easy to implement, so we realized rapid time to value, and customers have commented about the excellent, search relevance quality without the need for time-consuming tuning efforts. For merchants looking to complete more effectively in today's maturing ecommerce market, this is a sure-fire way to increase customer satisfaction."
Last month GoECart received a Connecticut Quality Improvement Award (CQIA) Innovation Prize from the (CQIA) for the ground-breaking new features in GoECart 8. In addition to High Performance Site Search, GoECart 8 also provides an Intelligent SEO™ feature that automatically optimizes web pages on the GoECart-powered storefront for display in the major search engines like Google™(NASDAQ:GOOG), Yahoo!®(NASDAQ:YHOO), and Microsoft® Bing™(NASDAQ:MSFT). The company has also been a CODiE Award finalist for Best Ecommerce Solution for the past four years running.
About GoECart
GoECart empowers merchants and retailers of all sizes with innovative, on-demand ecommerce solutions designed to address the challenges of the ever-changing web. Hundreds of organizations rely on GoECart every day to Sell more™ merchandise and compete more effectively. GoECart's proven technology solutions offer the ultimate in reliability, scalability, and flexibility demanded by the world's busiest ecommerce sites. GoECart's Thriving Partner Ecosystem™ provides the ultimate network of best-in-class ecommerce solutions providers to deliver a rich, immersive experience expected by today's savvy web shoppers. Our team of passionate ecommerce experts keep our clients at the forefront of ecommerce.
For more information, please contact:
Manish Chowdhary
GoECart.com
877-243-3612
###