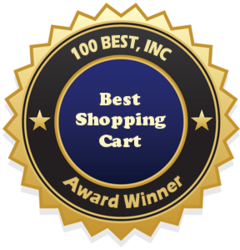 St. George, UT (Vocus/PRWEB) February 03, 2011
Each year, 100Best, Inc. chooses to honor one of the top shopping cart providers featured on bestshoppingcartreviews.com based on the overall service and quality offered by the company. BigCommerce's low prices for a high quality product make this company an easy choice for top honors. This year's finalists included Yahoo Online Store and Volusion shopping cart.
A leading provider for hosted shopping cart software, BigCommerce is currently powering over 10,000 successful online stores. After launching in 2003, BigCommerce has quickly grown to become of the largest and most reliable shopping cart Web site software providers available. BigCommerce is currently the fastest growing SaaS platform in the world. Over 40,000 companies have benefited from the quality services offered by BigCommerce including large corporations such as Dell, Kraft, Virgin, Wayne Gretsky and Ticketmaster among many others. With a mission in mind to assist companies of all types and sizes looking to expand to online sales, BigCommerce offers a quick and easy set up at an affordable price of $24.95 per month. BigCommerce can easily and affordability help with any business needs including small businesses that are considering expanding to include online sales to help generate increased revenue, sales and promotions.
Businesses of any size that are looking for versatility in using various types of payment methods, have a wide selection with BigCommerce. As one of the best hosted shopping cart software companies in the industry, BigCommerce also offers a free 15-day trial so potential customers can see for themselves the perks of using the high quality services and features available. This e-commerce system is easy to use without having to know HTML format. This great shopping cart company sets up businesses with more than 50 payment methods, and also has the ability to set users up with a merchant account for direct credit card sales. These merchant accounts can help businesses expand to online sales making it easy for any business to accept credit cards online, which can lead to overall increased revenue. For more information view the full BigCommerce review.
About 100 Best, Inc.
100 Best, Inc. was formed by a diverse group of financial and e-commerce experts as a way to find a more effective method of providing information to consumers about e-commerce solutions and services. Through its merchant account information portal bestshoppingcartreviews.com, 100 Best, Inc. continues to strive toward providing business owners with the information they need to choose the right shopping cart e-commerce provider for them. This site has articles and reviews for e-commerce and shopping cart companies throughout the Web. A vast array of information can be found through the site's extensive article database, a variety of tutorials and reviews. Links to great deals, online coupon pricing can also be found throughout the site.
###