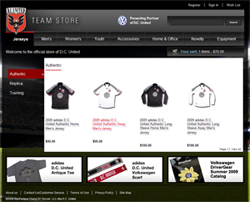 Rochester, NY (PRWEB) July 9, 2009
D.C. United has announced that team merchandise will now be available for sale on a new online team store. The new portal, launched with the help of ecommerce solution provider UniteU and payment services provider Shift4, will offer fans the opportunity to purchase all official D.C. United team merchandise available at the Official D.C. United Team Store physically located at RFK Stadium.
Available merchandise will include official team apparel from Adidas, a full line of casual wear, headwear, youth and women's gear, jewelry, scarves, home/office merchandise, drink ware and auto accessories.
The on-line team store is an extension of United's digital platform, which launched a newly designed and maintained team website prior to the 2009 MLS season. Available in both English and Spanish, the site gives users a retooled look inside the most successful professional soccer club in the history of the United States. The online platform focuses intently on the user and provides fans with an enhanced experience through desktop and mobile applications.
Building the site on the UniteU Connected Commerce platform enabled features such as one-page-checkout. This new page layout has proven benefits in reducing abandoned baskets and streamlining the online buying experience. Once the shopper has decided what they are going to purchase they can enter the shipping and payment information and confirm the order quickly from a single, easy to use screen.
UniteU built the optimized checkout screen into their new Connected Commerce Version 5 platform after research proved an increase in conversions when it was in place. This type of ongoing improvement is part of the UniteU philosophy of delivering complete on-demand ecommerce solutions. Rather than simply developing technology and selling ecommerce software to their customers, UniteU partners with their merchants and has a commitment to making available to them new capabilities that help them manage and grow their ecommerce businesses. The new checkout screen will become the standard for all customers whose sites are built on or converted to the new version 5 platform.
About UniteU
UniteU delivers on-demand ecommerce solutions that empower specialty retailers to create and manage online stores. Our ecommerce solutions have powered startups who reached the pinnacles of top 100 status and we have rescued merchants who outgrew rigid entry level systems. The UniteU Connected Commerce platform is PCI compliant and adapts and scales to meet the ever-changing needs of multi-channel retailers; supporting custom designs, integration, rich media, advanced promotions, multiple payment and shipping options and intuitive search and navigation capabilities. UniteU also retains valuable expertise, offering premier managed hosting, web analytics, in addition to e-business consulting and web marketing services that drive traffic, conversions and retention.
For more information about DC United contact D.C. United Director of Merchandising Nathan Fry at (202) 587-5428.
# # #