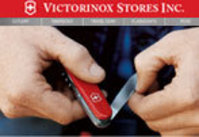 Rochester, NY (PRWEB) July 1, 2008 -
Victorinox selects specialty retail ecommerce solution provider to power online store featuring 100 year old brand. Swiss Army Brands, Inc., a wholly owned subsidiary of Victorinox, A.G., Switzerland, has been in business since 1884 and is best known as the makers of the Original Swiss Army Knife. This useful pocket multi-tool is a globally recognized symbol of precision, quality, functionality and versatility.
Victorinox Stores also offer other familiar brands such as William Henry, Benchmade, Spyderco, CRKT and Kewshaw, Aero, Mido and Mondaine along with Victorinox Cutlery, Swiss Army Timepieces, and Victorinox Travel Gear.
After so many years of unparalleled success in these brands, Victorinox Stores, Inc. has now expanded their retail business to include a new online web store, fully featured by UniteU Technologies, Inc.
The new Victorinox online store, includes rich front-end functionality such as a follow-me-basket and monogramming in addition to back-end automation through Retail Pro integration.
As a leading ecommerce solution provider, UniteU understands the latest features and functionality that enhance and refine shopper usability. UniteU achieves this by facilitating best practices for each merchant and tailoring ecommerce solutions that meet their individual business needs. UniteU is honored to have been part of the site design, build and implementation for this century old heritage brand and shares their respect for uncompromising craftsmanship, ingenious design and outstanding durability.
About UniteU:
UniteU Technologies, Inc. is a recognized leader in providing specialty retailers with on-demand commerce solutions that are powerful, yet affordable. UniteU's Connected Commerce® sites are scalable, support custom designs and integrate with back office systems such as Retail Pro and QuickBooks POS. All sites are controlled directly by merchants with opportunities for multiple payment and shipping options, rich imaging, advanced promotions, navigation and in-site search capabilities. UniteU also offers premier managed hosting, leading web analytics tools and web marketing services that drive traffic and increase conversions.
###