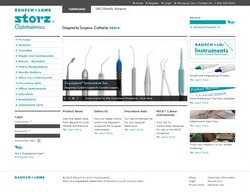 The new websites' relationship between web design and product creates an engaging experience for the user while reinforcing Bausch + Lomb as a credible industry leader in the medical community
Chesterfield, MO (Vocus) November 2, 2010
Online Interactive Agency, The Net Impact received a Targeted Advertising and Marketing (TAM) Award in the Web Development E-Commerce Category for their work on Bausch & Lomb's Storzeye Website.
The Storzeye Website, http://www.storzeye.com/ , was redesigned by The Net Impact to showcase Bausch & Lomb's high quality products in order to increase sales among the medical community. The new website design includes enhancements to the ways in which products are displayed and indexed on the sites. Website visitors can now search for instruments, set-up a wish list and add products to an online shopping cart. In addition, the website increases user engagement by including improved product detail with "click to enlarge" functionality on all product images and product videos.
The Storzeye website received the Bronze Award in the Website Development Ecommerce Category from the Business Marketing Association (BMA) of St. Louis. The TAM Award was accepted by The Net Impact's Web Designer, Randy Verbeck.
"The new websites' relationship between web design and product creates an engaging experience for the user while reinforcing Bausch + Lomb as a credible industry leader in the medical community," said Verbeck.
The BMA's TAM (Targeted Advertising & Marketing) Award recognizes the best business-to-business marketing campaigns in the St. Louis region and honors the agencies, companies and individuals who create them. At the 2010 TAM Awards Party at the Chase Park Plaza, The Net Impact took home six awards, including all three awards in the Social Media Marketing Initiative Category. This was the first year the Chesterfield- based agency entered the TAM Awards competition.
About The Net Impact®
The Net Impact, a full service Internet marketing and web design, is a division of Unidev®. Since 1997, The Net Impact has been a web development leader, empowering clients with highly creative search engine friendly websites. Professional services encompass search engine optimization and Internet marketing solutions, Internet strategy development, training and seminars, social media marketing and design, and web design and development. For more information on The Net Impact, please visit http://www.thenetimpact.com, or call (888) 629-4672.
# # #