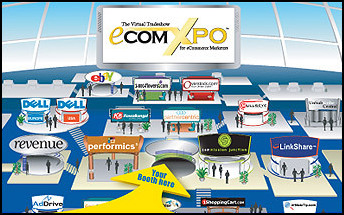 eComXpo is a first-class event that surpassed our ROI objectives, all while providing excellent service. We plan to be back for the next show!
Chicago, IL (PRWEB) August 14, 2006
eComXpo, the virtual tradeshow for eCommerce marketers, hosts its fourth virtual tradeshow October 24-26, 2006. eComXpo features all the benefits of a top traditional tradeshow without the cost, travel or hassle associated with traditional events and conferences. Attendees and exhibitors interact with over 7,000 people via chat or email, attend educational presentations by top internet marketing experts, visit over 200 booths in the exhibit hall and enter to win fantastic prizes. The best part is that it's all done without leaving the comfort of your own home or office.
eComXpo held their first virtual event in February 2005. The success was outstanding given nothing like this had been attempted in the eCommerce space before. eComXpo's third show this last April featured 20 panel/keynote speaker presentations from ecommerce industry luminaries, 237 exhibitor booths on two show floors, over 7,100 registered attendees and the introduction of the new eComXpo University.
"We're expecting the October show to be bigger and better than ever", says eComXpo Event Director, John Grosshandler. "Many of our past exhibitors are back, including Google, Yahoo!, LinkShare, Digital River, Ask.com, GSI Commerce and hundreds more. And our speaker line-up includes even more of the top eCommerce experts in the industry speaking on topics of interest to affiliate marketers, search engine professionals and anyone involved in the interactive or online advertising and marketing fields."
Annie Wang of Ask.com, a first time exhibitor at the April show, found eComXpo to be a great experience. "eComXpo is a first-class event that surpassed our ROI objectives, all while providing excellent service. We plan to be back for the next show!" exclaims Wang.
Attendee registration at eComXpo is absolutely free at http://www.ecomxpo.com and includes admittance to the exhibit halls, educational center, networking lounge and eligibility for all show prizes. In addition to attending interactive keynote, feature and panel presentations that all include a live Q&A session streamed over WebmasterRadio.FM, attendees now have the opportunity to view "hot" new presentations prepared exclusively for eComXpo University, on-demand for free, during the three day show. Introduced in April, eComXpo University features over 200 new and archived educational presentations from shows past and present, available by subscription only, for 6 months after each show.
eComXpo attendee, Danny Schonfeld of PrimeQ, said, "eComXpo lived up to the hype! It took the exhausting flying, walking and talking out of the trade show and left all the good stuff in. Truly an amazing user experience and an excellent way to educate and network in our industry."
To get more information or to register as an exhibitor or attendee please visit eComXpo
About eComXpo
eComXpo is the first virtual, online trade show and conference for eCommerce marketers. Its fourth show is October 24-26, 2006. Over 200 exhibitors, sponsors, and presenters will be gathering with over 7,000 attendees (making it the largest eCommerce tradeshow in the world), completely online and 100% free to attend. eComXpo provides all the benefits of a top tradeshow without the cost, travel or hassle normally associated with traditional events. eComXpo is produced by InXpo (http://www.inxpo.com), which also powers online events in other markets.
###