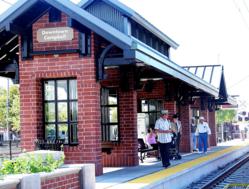 Our city is poised for growth right now.
Campbell, CA (PRWEB) July 23, 2011
Campbell Chamber of Commerce has partnered with the City of Campbell in a concerted effort to share and combine resources to streamline procedures and update city policies, in order to aggressively pursue new business for the area.
With RDA going away, the Chamber has decided to take a much more active role in the South Bay economic development. The partnership will bring jobs and needed tax revenue to the city.
"Our city is poised for growth right now," said Neil Collins, the CEO of Campbell Chamber of Commerce.
The partnership between Campbell Chamber of Commerce and the City of Campbell will prepare a detailed marketing plan to aggressively recruit new businesses and jobs to the area.
The City of Campbell has been working hard to streamline the processes of establishing businesses in the South Bay, and to move projects through at a much faster rate than ever before. The city wants to improve and dispel the notion that Campbell is a city that is difficult for businesses to get into. Campbell is centrally located with excellent freeway access and light rail. Leasing rates are typically 20 to 30 percent less than the other surrounding communities. Upcoming employers can take advantage of Downtown Campbell and all the amenities it has to offer.
"Campbell's location, with easy access to three major freeways and light rail, as well as its fun and friendly activities and atmosphere make the city attractive both to customers who want to shop here and employees who want to settle in the same great city where they work," said Mayor Jason Baker of the City of Campbell.
For more information on Campbell Chamber of Commerce, interested clients can visit at http://www.campbellchamber.net/ or call (408) 426-8720.
About Campbell Chamber of Commerce
Campbell Chamber of Commerce is a South Bay business association whose goal is to promote the City of Campbell in all aspects that affects the city's growth and potential. From businesses and the community as a whole, Campbell Chamber Commerce have innovative and easy to access programs, tools and opportunities that can help the City be successful and help the people to live in a safe, positive and growing environment.
###