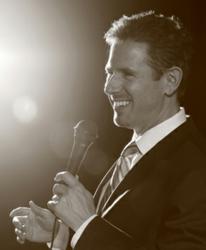 learn how to predict the future
San Francisco, CA (PRWEB) January 18, 2013
Patrick Schwerdtfeger released the second episode of "Strategic Business Insights" today by describing the role of demographics in predicting economic performance. This 29-minute video reviews population growth, age profile and net exports for America, Latin America, Europe, Russia, Japan, China, India, Pakistan and the Middle East.
Patrick emphasizes the dramatic differences between the developed world and the emerging economies. The nations in the developed world have a "youth deficit" and also have disproportionately many residents over 65 years of age. On the other hand, many of the emerging economies have a "youth bulge" which contributes to future growth but also to political volatility and social unrest.
The implications are far reaching. "Average people can use publicly accessible data to predict future economic performance," explains Schwerdtfeger, "empowering them with valuable insights about the future of nations around the world."
Interested readers can visit Patrick's website or watch the video on YouTube. They are also encouraged to subscribe by email to ensure they'll get notified when future videos are released.
About Strategic Business Insights
Strategic Business Insights (SBI) strives to help professionals, executives and business owners build broad understanding of the trends reshaping our world. In particular, the videos focus on the impact of these trends on business and commerce. The videos are offered free of charge and can be accessed on Patrick Schwerdtfeger's website.
About Patrick Schwerdtfeger
Patrick Schwerdtfeger (@schwerdtfeger on Twitter) is a keynote speaker who has headlined events for Bloomberg TV, Bank of America, Comcast Cable, Research in Motion (BlackBerry), Time Warner Cable and United Healthcare among others, as well as dozens of conferences and conventions around the world. His programs focus on business trends, small business marketing and the social media revolution.
Patrick is the author of Marketing Shortcuts for the Self-Employed (2011, Wiley) as well as Webify Your Business: Internet Marketing Secrets for the Self-Employed (2009) and Make Yourself Useful: Marketing in the 21st Century (2008). He has been featured by the New York Times, LA Times, San Francisco Chronicle, CNN Money, Fortune, Bloomberg Businessweek, the Associated Press, MONEY Magazine and Forbes, among others.
Patrick is available for television appearances and media interviews. He can be contacted through his website: