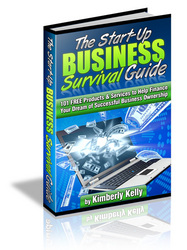 The Start-Up Business Survival Guide: 101 Free Products & Services to Help Finance Your Dream of Successful Business Ownership
Atlanta, GA (PRWEB) July 8, 2009
Economic Recession woes continue to plague American workers. Jobless claims have soared to an unprecedented 9.4%, according to a newly released report from the US Department of Labor. As the nightmare of increased job losses continues to plague the US economy, American workers are forced to cope with the bitter realities of a frail job market, with no immediate end in sight. Tumbling house prices, looming foreclosures and damaged personal credit, threaten to further lunge American families into a credit-less abyss.
A ray of hope to this troublesome reality, is that more American workers are seeking solutions to the economic recession woes, by starting up small businesses.
Atlanta area Start Up Business Consultant Kimberly Kelly, specializes in teaching budding entrepreneurs how to start up a business utilizing bootstrap financing methods. Her new book, "The Start-Up Business Survival Guide: 101 Free Products & Services to Help Finance Your Dream of Successful Business Ownership", has now been released for sale at her website: http://www.StartUpBusinessSurvivalGuide.com.
This bootstrapping start up manual teaches budding entrepreneurs how to:
*Reduce business start-up costs with creative financing solutions.
*Find totally free sources of potential business start-up funding.
*Successfully start, manage and grow a bootstrapped start up business.
More About the eBook:
"The Start Up Business Survival Guide" is a step-by-step business start up manual which focuses on bootstrap financing methods. It contains the following chapters:
Chapter 1: Turning Your Passion into Profit
Chapter 2: Savvy Survival Secrets for Start-up Saving$
Chapter 3: Marketing 101
Chapter 4: Scavenge the Shores for Streams
Chapter 5: Converting Contacts to Customers
Chapter 6: Share Your Pot of Gold
Chapter 7: More Fabulous Freebies
About the Author:
Kimberly Kelly is a Start-Up Business Consultant, specializing in cost reduction strategies for new businesses. Through her eBook and coaching services, she teaches budding entrepreneurs how to combat the economic recession with bootstrap financing.
She has had a long-standing career as an entrepreneur, both in the USA and Ireland. Kimberly resides in suburban Atlanta with her husband and four children.
For More Information, Contact:
Kimberly Kelly
Kelly Enterprise Company, LLC
244 Fifth Avenue, Suite 1910
New York, NY 10001
(845) 698-9146
###