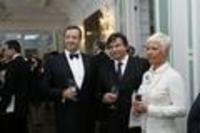 The Estonian government's budget-cutting steps have meanwhile been noted positively here. Unlike some others, the Estonian government at least has some kind of an action plan to keep the budget under control
Tallinn, Estonia (PRWEB) March 5, 2009
European Commission Vice President Siim Kallas says that, looking from Brussels, the economic crisis in Estonia does not look too bad compared to some other countries. Margus Reinsalu, dynamic Estonian Entrepreneur, luxury resort developer, and owner of investment firm KC Grupp, agrees with Kallas. Reinsalu's KC Grupp conducts business in his native Estonia, making him well acquainted with the economic situation there.
Some European countries are gripped by panic caused by the economic crisis and their governments and parliaments do not know what to do in the grim situation, Kallas, who comes from Estonia, told reporters in Brussels.
"The Estonian government's budget-cutting steps have meanwhile been noted positively here. Unlike some others, the Estonian government at least has some kind of an action plan to keep the budget under control," Kallas said.
Kallas added that the three Baltic States are generally viewed as a single entity in the West, but the present economic crisis has set Estonia apart from its Baltic neighbours. He mentioned an article in the British magazine The Economist which pointed out that, unlike Latvia and Lithuania, Estonia had accumulated reserves and is therefore better equipped to survive the global downturn.
Margus Reinsalu absolutely agrees with the European Commission VP by saying, "Estonia does not look bad to the rest of the world, and is clearly distinguishable from many other countries suffering from the economic crisis. Difficult times are definitely good for something. I believe that difficult times offer excellent opportunities for development, and I am certain that Estonia will come out of the crisis stronger and is still very attractive to foreign investors."
To read more of European Commission VP Siim Kallas' and KC Grupp owner Margus Reinsalu's comments on the economic crisis in Estonia, visit ec.europa.eu/index_en.htm or KCGrupp.com.
Published by: KC Grupp and Corpore.
Dainis Hirv
+3725021995
dainis (at) corpore (dot) ee
###