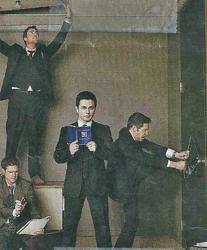 "This report articulates deep feelings about the US economy among everyday American consumers -- not the people you see on the Sunday morning talk shows.
Pittsburgh, PA (PRWEB) February 28, 2012
Confinement and lack of mobility are common themes that characterize everyday Americans' inner thoughts and feelings about the current state of the US economy, according to America's Economic Gulag, a new research study conducted by global market research firm Olson Zaltman Associates.
The report paints a psychologically robust picture of how everyday Americans are feeling about their country and their own economic lives, and its findings have implications on marketers, employers, educators, social services providers and general human interaction across society.
Participants' comments suggest that despite recent positive economic signs, Americans remain deeply concerned that their freedom is at risk:

"I am in a hole."
"The stress can be immobilizing."
"Things are tighter and tighter in my company."
"The middle class is getting squeezed down."
The research was conducted using the Zaltman Metaphor Elicitation Technique (ZMET®), a patented methodology that invites people to use metaphoric imagery to reveal their unconscious feelings and emotions, which have a critical influence on thinking and behavior, but are usually inaccessible via more traditional forms of market research.
"The stories we heard saddened us, captivated us, and gave us hope. The ZMET process articulates the deep feelings of everyday Americans – people you don't see on the Sunday morning talk shows or at high level Cabinet meetings. These voices are your family members, neighbors, co-workers, clients and consumers," said Dr. Gerald Zaltman co-founder of Olson Zaltman Associates and Professor Emeritus at Harvard Business School.
Visual Metaphors Reveal Emotions
In analyzing the imagery and the metaphorical language people used during their two-hour discussions, researchers discovered that Americans feel metaphorically imprisoned, as if they are in an economic gulag. Metaphors of confinement permeated participants' language, as a woman in Phoenix illustrated with an image of men confined to a small room.
The concept of freedom traditionally has been at the heart of the United States' national identity. As Olson Zaltman's report explains, the perceived erosion of that freedom has had profound implications for how Americans see their country and how they perceive the American Dream.
As they look to the future, people are of two general mindsets. Some feel defeated and helpless. However, another segment exudes more determination. As a woman from Dallas notes, they have taken a hard hit, but are hopeful things are improving, both personally and for the nation.
The full report is available at
http://olsonzaltman.com/media/ZMET_EconomyReport2012.pdf
For more information about the report, please contact Tim Bradley at (412) 288-9790, x108 or at tbradley(at)olsonzaltman(dot)com.
About Olson Zaltman Associates
Founded in 1997 by Dr. Gerald Zaltman, professor at Harvard Business School, and Dr. Jerry Olson, professor at Penn State University's Smeal College of Business, Olson Zaltman Associates has conducted consumer research in 32 countries. Its list of clients includes 18 companies in the 2011 Fortune 100 – among them, Microsoft, P&G, and PepsiCo. It also has used its methodology to help non-profit and public sector clients, including the Robert Wood Johnson Foundation, the Arizona Department of Health Services, the World Bank, and Children's Hospital of Pittsburgh.
Visit us online: http://www.olsonzaltman.com/
Follow us on Twitter: @ZMET
Connect with us on LinkedIn: http://linkd.in/olsonzaltman
Read more on our blog: http://forrfiles.wordpress.com/
###