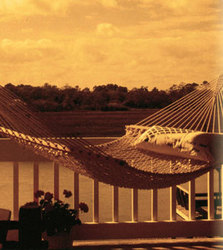 in 2008, more people reported stress-related physical and emotional symptoms than they did in 2007.
Atlanta, GA (PRWEB) March 12, 2009
Yard Envy (http://www.yardenvy.com ) of Alpharetta, Georgia, a popular online provider of fine patio furniture and outdoor décor invite the public to take a break from the economy and relax in a beautiful backyard hammock. The recent U.S. economic downturn has resulted in an increase in stress on Americans. A simple activity like relaxing in a rope hammock may temporarily help to relieve stress and provide a much needed break from everyday pressure.
As spring approaches and the temperature begins to raise, Americans look to the outdoors for recreation, enjoyment and relaxation. The buying season for outdoor patio products traditionally begins in March, and this year, those products may play an even more important role in helping Americans reduce stress. A recent October 2008 study by Harris Interactive and the American Psychological Association reported that "80% of Americans are stressed about the economy," and "in 2008, more people reported stress-related physical and emotional symptoms than they did in 2007." The calming effects associated with wrapping oneself in the comfort of a fabric hammock and swaying effortlessly in the breeze is undeniable and has long been a central draw for consumers. This year, with a troubled economy weighing on the minds of most Americans, the role of hammocks as a practical and cost-effective means to unwind and get away from it all makes the option of owning one even more attractive and essential.
For its part, YardEnvy.com offers customers hundreds of options for adding a timeless touch and a stress-free getaway to their backyard, patio, deck, porch or garden oasis. Among the website's more popular lines is the Castaway Cotton Double Rope Hammock featuring solid oak spreader bars and soft, stretchable cotton; and the Pawleys Island 65"W Presidential Cotton Rope Hammock, a hand woven, elite class of hammock enjoyed by U.S. presidents dating back to Harry Truman. Although hammocks have traditionally hung between trees, modern hammocks provide for hanging from either a metal or wooden hammock stand. This option offers excellent stability while extending the range of placement options in and around the home.
For more information about Yard Envy outdoor hammocks, visit http://www.yardenvy.com or call 800-967-7654.
About Yard Envy
Established in 2006, Yard Envy offers convenient online shopping for customers seeking fine outdoor patio furniture and garden décor items including more than a thousand products Made in the USA, Bird Feeders, Garden Arbors, birdhouses, Sundials, and more. YardEnvy.com is one of several successful websites owned and operated by parent company Trading Fort, LLC, a niche market online retailer with its headquarters in Alpharetta, GA.
Contact
Aaron Hassen, 800-967-7654, Ext. 5016
Email: media(at)yardenvy.com
###