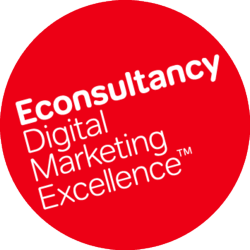 To maintain this momentum, agencies need to embed themselves in the strategic decision making of the brands they work with
London UK (PRWEB UK) 20 June 2013
The Top 100 Digital Agencies Report (http://econsultancy.com/reports/top-100-digital-agencies-report), previously published exclusively by New Media Age, ranks agencies according to fee income from their UK digital activities. The same agencies reported that their fee income in the previous year was £962m, showing a growth rate of 23%.
The research also found that creative activities drive the largest share of average agency fee income; it accounted for 17% of fees (or almost £203m). This was followed by technical development (14% / £168m), and marketing (12% / £148m).
In the face of continuous customer change and disruption coming from digital, brands are looking to invest more heavily. Agencies are profiting from the skills, knowledge and experience they have built up over the past years.
For this reason, optimism within the industry is high: 70% of agencies surveyed said they were 'very optimistic' for their business over the next 12 months.
Speaking on the report, Econsultancy CEO Ashley Friedlein says: "Agencies remain the foundries of ideas that forge much of the UK's success as a global leader in digital and ecommerce. They are highly positive about their outlook, with 91% of agencies surveyed for this report expecting to grow in the next 12 months, and 41% expecting growth of 30% or more.
He adds: "However, in order to maintain this momentum, agencies will have to continue to look beyond simply providing services. They need to embed themselves in the strategic decision making of the brands they work with and sit as close as possible to the board table. Agencies that influence discussions here will see continued success as companies transform themselves for the digital age."
Shawn Cabral, marketing director, Sitecore UK comments: "It is great to see that the UK digital agency sector continues to power ahead with strong revenue growth and optimism for the future. Digital success is so closely linked with business success for many brands, and the UK's digital agencies have a pivotal role in guiding their clients so they can use digital to build long-term, sustainable business advantage. Sitecore is committed to helping the UK digital agency sector to achieve this and deliver long-lasting customer value for brands"
Other findings include:

The five largest agencies in the UK are SapientNitro, LBi, AKQA, Engine and Detica, which have retained their positions since last year.
MediaCom was found to be the largest digital media agency, which are ranked separately according to total billings.
The most influential agency, as voted by other agencies, was AKQA, with co-founder and CEO Ajaz Ahmed also being voted the most influential person.
Six agencies were also listed as 'ones to watch'. These are Fluxx, Grandad London, Velocity Partners, Quill, Radical Company and Nice Agency.
The most common market sector targeted by digital agencies was financial services, with 88% targeting this vertical. Other areas included retail (87%), travel and leisure (87%) and publishing, media and entertainment (81%).
In addition to the issuing this report, Econsultancy and New Media Age will be celebrating the best in global agency success when they present awards at The Digitals at the Grosvenor House Hotel on 27 June. To reserve seats at this key event in the digital sector's calendar, click here: http://thedigitalsawards.com.
Get this report
The Top 100 Digital Agencies Report is available for download both as a PDF report and interactive Excel file on the Econsultancy site: http://econsultancy.com/reports/top-100-digital-agencies-report.
Join the discussion on Twitter using the hastag #EconTop100
Notes to editors
Econsultancy is available for comment or to discuss the findings in more detail.
For more information about this report, contact:
Nancy Prendergast
Tannissan Mae Communications
+44 (207) 243 4440
nancy(at)tannissanmae(dot)com
Andrew Warren-Payne, Senior Research Analyst,
Econsultancy
top100(at)econsultancy(dot)com
+44 (0) 207 269 1450
About Econsultancy
Econsultancy is a globally renowned information and capability development service for digital professionals. We help our clients seize the opportunities and meet the challenges of a digital world and connected consumers.
Every day, the world's most successful brands, suppliers and agencies turn to Econsultancy resources – from our premium subscriptions, research reports, webinars, events and online content to our capability assessments, training, elearning and skills development programs – to transform their culture, build better teams, boost performance and deliver results.
Web: http://econsultancy.com
Twitter: http://twitter.com/econsultancy
About Sitecore
Sitecore is the global leader in customer experience management software for delivering the marketing that matters most – highly relevant content and personalised digital experiences that delight customers, increase loyalty and drive revenue. With Sitecore's fully unified, powerful, and easy-to-use software suite, marketers can focus on engaging customers instead of managing data – to deliver experiences that are relevant, immediate, and integrated across channels. More than 3000 of the world's leading brands – including American Express, Carnival Cruise Lines, easyJet, Heineken, LEGO, Microsoft, and Nestle – depend on Sitecore to help them deliver the meaningful interactions that win customers for life. For more information, visit http://www.sitecore.net.
Ranking details
In rank order, the Top 100 Digital Agencies are: 1. SapientNitro, 2. LBi, 3. AKQA, 4. Engine, 5. BAE Systems Detica, 6. Salmon, 7. Deloitte Digital, 8. iProspect, 9. RAPP, 10. Wunderman Network UK, 11. M&C Saatchi, 12. iris Worldwide, 13. CACI , 14. Razorfish UK, 15. GSI Marketing Solutions, 16. Javelin Group, 17. Endava UK, 18. Dare, 19. MRM Meteorite, 20. Havas EHS, 21. Tullo Marshall Warren, 22. Amaze, 23. R/GA London, 24. VCCP, 25. Grass Roots Group UK , 26. Proximity London, 27. POSSIBLE, 28. Reading Room, 29. HeathWallace, 30. Greenlight, 31. TH_NK, 32. Stickyeyes, 33. Leo Burnett Group, 34. Profero, 35. Realise, 36. Zone, 37. iCrossing, 38. Haymarket Network, 39. Jam, 40. Tangent Snowball, 41. Investis, 42. Axonn Media Limited, 43. ais London, 44. The BIO Agency, 45. The Big Group, 46. Edelman Digital, 47. VML London, 48. Cognifide, 49. Valtech, 50. CDS Digital, 51. Technophobia Ltd, 52. Karmarama, 53. Ayima Search Marketing, 54. Epiphany, 55. Equator, =56. Group FMG, =56. 1000heads, 58. The Group, 59. G2 Joshua, 60. Volume, 61. Summit Media, 62. gyro, 63. WCRS, 64. twentysix, =65. Click Consult, =65. Jellyfish, 67. Metia, 68. Rippleffect, 69. Agency Republic, 70. POKE, 71. Foolproof, 72. Latitude Digital Marketing , 73. Hugo & Cat, 74. Weapon7, 75. Precedent Communications, 76. Indicia, 77. Elvis, 78. AIA Worldwide, 79. CMW, 80. MSL Group UK, 81. The Real Adventure, 82. Code Computerlove, 83. TBG, 84. Rufus Leonard, 85. Add People, 86. Freestyle Interactive, 87. Holler, 88. Tempero Social Media Management, 89. Search Laboratory, 90. Abacus e-Media, 91. Redweb, 92. Fresh Egg, =93. Huge, =93. Grey London, 95. Five by Five, 96. e3, 97. equimedia, 98. Mediaworks Online Marketing, 99. Brass, and 100. Pancentric Digital.
The top media agencies are: 1. MediaCom, 2. Essence, 3. MEC, 4. Mindshare, 5. Harvest Digital, 6. STEAK , 7. Agenda21 Digital, 8. Unique Digital, and 9. 7thingsmedia. OMD was unranked.