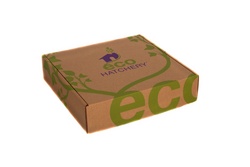 The timing of the Eco Starter Kit couldn't be better, as the presidential election, $4 per gallon gasoline and ever stranger weather patterns have raised consumer awareness of the need to take action, not only to save the environment, but to save cash
Milwaukee, WI (PRWEB) August 20, 2008
http://www.ecohatchery.com Doing something great for the environment also does wonders for your bank account. Fresh on the market from Eco Hatchery is the Eco Starter Kit which helps you save over $260 a year on utility bills, while reducing greenhouse gas emissions that lead to global warming.
Inside the Kit are key energy-saving tools that help reduce carbon dioxide emissions by 2.5 metric tons for a typical household. That's equivalent to: replacing a mid-size sedan with a Prius hybrid…not eating 671 servings of beef…or eliminating 5,500 pounds of garbage from landfills.
"It's the perfect gift under $100 for anyone who wants to go green but doesn't know where to start," said Borut, adding that the Eco Starter Kit is designed for busy people who want immediate impact and a clear menu of options for achieving savings in the future.
A beautifully illustrated booklet provides step-by-step guidance to help you achieve the environmental, health and economic benefits of the kit's products such as:

Energy Monitor
Home Tap Water Quality Test & Conservation Tools
Reusable Filtered-Water Bottle
Home Insulation Products
Eco Lighting Replacement Tool
A-Z Recycling Resources Directory
….and much more!
All of the Eco Starter Kit's energy-saving activities are linked to an online Eco Roadmap with personalized project and product recommendations for ongoing savings beyond the Kit.
You also can team up with friends, colleagues and neighbors to create your own Eco Community and track improvement of the group's carbon footprint online.
"The timing of the Eco Starter Kit couldn't be better, as the presidential election, $4 per gallon gasoline and ever stranger weather patterns have raised consumer awareness of the need to take action, not only to save the environment, but to save cash," said Borut.
Based in Milwaukee, WI, Eco Hatchery helps individuals take the first steps toward energy conservation and greenhouse gas emissions reductions. The web site features personalized Eco Roadmaps with interactive tools, an Eco Shop and Communities. Box dimensions are 16" x 15" x 4". Price: $97.50.
###