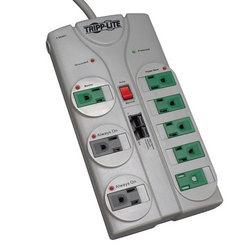 With their innovative green outlet array, they save money, conserve electricity and reduce carbon footprints — without sacrificing the high level of power protection that home and business users demand for their valuable equipment.
Chicago, IL (Vocus) March 2, 2010
Tripp Lite, a world-leading manufacturer of power protection equipment, has introduced two new ECO-Surge™ Suppressors with energy-saving outlets designed to conserve energy by eliminating "phantom loads."
The new 12- and 8-outlet Surge Suppressors feature a green outlet array with Master and Power Save outlets that cut power to idle peripherals when the primary device is turned off. For example, if a notebook computer is connected to the Master outlet, turning it off will also automatically cut power to peripheral devices connected to the Power Save outlets, such as monitors, printers, scanners or desk lamps. This feature eliminates wasteful "phantom loads" that continue to consume electricity even when a device appears to be turned off.
Key Features and Benefits:

Green outlet array saves up to $40 on an average annual electric bill
Green function can be turned off with manual switch
Always-on outlets provide continuous power
Selectable wattage switch allows devices as small as netbooks to be assigned as master device
Dataline surge protection options for computers and A/V components
Manufactured in accordance with strict RoHS environmental standards
"We're excited to be introducing these new, environmentally friendly surge suppressors to the market," said Karenann Brow, Tripp Lite Senior Product Manager. "With their innovative green outlet array, they save money, conserve electricity and reduce carbon footprints — without sacrificing the high level of power protection that home and business users demand for their valuable equipment."
For more information on Tripp Lite's new ECO-Surge Suppressors, go to:
http://www.tripplite.com/ECOsurge
To download product images:
Model TLP1210SATG ECO-Surge Suppressor
Model TLP808NETG ECO-Surge Suppressor
About Tripp Lite
Outstanding product reliability and exceptional service have been Tripp Lite trademarks for more than 85 years. Tripp Lite's innovations include the world's first UPS system designed specifically for personal computers, and the world's most trusted premium surge suppressor--the Isobar®--with more than 16 million in use. Tripp Lite maintains the highest level of ready-to-ship inventory in the industry with more than 1,000 different products, including UPS systems, rack systems, PDUs, PowerAlert software for enterprise-level system management and control, surge suppressors, KVM switches, cables and connectivity products, inverters, power strips, notebook accessories and more. Headquartered in Chicago, Illinois, Tripp Lite maintains a global presence with fully staffed offices worldwide. Additional information, including a list of Tripp Lite's sales offices and authorized reseller partners, can be found by visiting Tripp Lite's website: http://www.tripplite.com
Media Contact
Gloria Wong
Media/Public Relations Manager
773.869.1229
Fax: 773.869.1935
gloria_wong(at)tripplite(dot)com
###