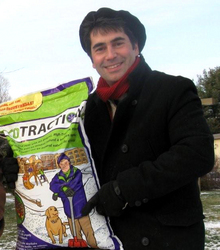 We're grateful to PetSmart
Chicago, IL (PRWEB) February 4, 2009
The road salt shortage felt across most of America has led a Canadian company to donate their green traction aid to President Obama's hometown of Chicago, as well as to other municipalities.
Earth Innovations Inc. is donating a full shipment of "EcoTraction" to the Windy City. The Mayor's Office gave its green light last week for a free trial of the high-traction green product.
The company has established a program called the Green Streets Challenge to help American cities cope with the high financial and environmental cost of road salt. It will provide a free ton of environmentally-friendly traction aid - green in color - to the first 20 qualified municipalities who contact them at gogreen(at)ecotraction.com
The unique green-colored mineral is increasingly being used as an alternative to ice melters. Unlike deicing salts, the company says that it works in the coldest temperatures and helps create traction in freezing rain.
Mark Watson, co-founder and CEO, explains that the natural product is actually manufactured in America. "EcoTraction is aligned with President Obama's pledge to invest in the emerging green economy," says Watson. "Not only is EcoTraction helping to create new green collar jobs in the U.S. but it is also a more environmentally sustainable approach to winter ice control."
The company reached out to Mayor Daley to support his goal of making Chicago 'the greenest city in the nation.' The Mayor has acknowledged that road salt is a road block to his goal, as recently quoted in the Chicago Sun-Times: "This salt is not environmentally friendly. It destroys everything. It destroys all your roads, the curbs, landscaping. It destroys your car..."
"Unlike road salt, EcoTraction can actually benefit the environment because of its natural soil amendment and water filtration properties," says Watson. "It won't damage vegetation but can help make Chicago's landscaping and parks greener, plus it is safe to touch or inadvertently ingest by pets, and won't corrode concrete, steel structures or rust cars."
The unusual product is made of a highly porous volcanic mineral with a unique honeycombed jagged structure. Each granule acts like a rigid sponge that embeds itself into ice by absorbing the thin layer of water that makes icy surfaces slippery, creating a "sandpaper effect." Unlike ice melters, it creates traction in the coldest temperatures and helps create traction in freezing rain.
EcoTraction was created in 2005 after Watson lost his dog 'Grover' to cancer. After consulting with a veterinary oncologist, he concluded that the cause was likely the toxins in road salt that his dog inadvertently ingested by licking his paws after winter walks. The story of EcoTraction was heard by almost a million TV viewers when it was featured on one of Canada's most watched TV shows this past November.
During the show, he displayed a houseplant that had been growing in EcoTraction for a few years, as well as a fish safely swimming in a bowl containing the natural mineral. It was hailed as a "miracle mineral" and embraced as one of the most promising products ever featured.
The company has now partnered with PetSmart, the largest pet specialty retailer, where EcoTraction is available at hundreds of select stores in Canada and the U.S. "We're grateful to PetSmart," says Watson. "Thanks to them, EcoTraction is now available to thousands of 'pet parents' across North America."
With President Obama's emphasis on environmental sustainability and his promise to get a 'new puppy' for his daughters during his historic November 4th Chicago victory speech, Watson is determined to introduce EcoTraction to the White House.
A near-record 20.3 million tons of road salt was used last year in the United States, damaging almost everything it came in contact with. The National Research Council Transportation Research Board (Washington, D.C. 1991) estimates that every ton of road salt can cause approximately $600 in downstream damage to infrastructure such as bridges, roads, as well as vehicles and property, plus incalculable damage to the environment.
Watson hopes that municipalities across North America will re-evaluate the hidden costs of deicing salts and their effects on the environment and infrastructure. He points to the conclusion of the National Association of Corrosion Engineers (NACE):
"A number of factors contribute to bridge corrosion. One of the most common is the use of deicing salts on roads and bridges… The salts cause corrosion of the steel reinforcing bars and other steel components supporting the bridge. This form of corrosion is the main cause of concrete bridge deterioration."
Scientists are also concerned about road salt's impact on the environment. The Proceedings of the National Academy of Sciences have concluded that road salt contaminates drinking water supplies:
"…if salinity were to continue to increase at its present rate… many surface waters in the northeastern United States would not be potable for human consumption and would become toxic to freshwater life within the next century."
"EcoTraction can help reduce communities' need for salt and is a fiscally responsible way to go green," says Watson. "One bag of EcoTraction can cover the same surface area as multiple bags of ice melters, making EcoTraction a great value in these difficult economic times."
The company is offering to donate one ton of EcoTraction to the first 20 qualified municipalities who contact them at gogreen(at)ecotraction.com. Consumers can find EcoTraction at select PetSmart stores by visiting: http://www.ecotraction.com/retailers.html
Mark Watson is available for media interviews.
Contact
Mark Watson, CEO
613-232-4379 x104
888-293-3406
mark(at)ecotraction.com
http://www.ecotraction.com
###