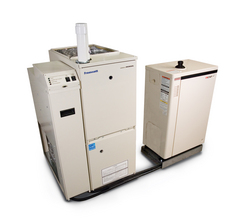 With the ability to supply both heat and power to U.S. homes, micro-CHP significantly reduces the amount of fuel normally needed for a home, which directly and dramatically impacts the environment by reducing the greenhouse gases associated with global warming
Utica, NY (Vocus) February 25, 2009
Congressman Brian Higgins (NY-27) visited the ECR International manufacturing facility in Dunkirk, N.Y., as one stop on his tour of area companies who offer renewable and energy-efficient technologies.
Higgins toured the ECR facility and visited with ECR's leadership team to discuss the company's micro-combined heat and power (micro-CHP) technology, the freewatt® home heating system. With a focus on maximizing fuel energy, micro-CHP technology combines heat and power in its dual approach of generating electricity while heating a home.
"With the ability to supply both heat and power to U.S. homes, micro-CHP significantly reduces the amount of fuel normally needed for a home, which directly and dramatically impacts the environment by reducing the greenhouse gases associated with global warming," said Michael Paparone, president and CEO of ECR International.
micro-CHP has been identified by the United States Environmental Protection Agency (EPA) as one of two technologies designated as a Climate Choice technology. According to the EPA, Climate Choice is a new partnership program that recognizes emerging technologies that have the potential to substantially reduce greenhouse gas emissions once they are more widely adopted. For more information on Climate Choice, visit http://www.epa.gov/cppd/climatechoice/technology.htm
ECR will continue to discuss the benefits of micro-CHP technology when Congressman Michael Arcuri (NY-24) visits the ECR facility in Utica, N.Y., on Friday, Feb. 27. Arcuri will arrive at approximately 2 p.m., and will tour the facility and meet with ECR leaders to discuss the energy-efficient technology and how it can impact the state of New York and the entire nation.
For more information on freewatt or ECR, please visit us on the Web at http://www.ecrinternational.com or http://www.freewatt.com.
About ECR
ECR designs, manufactures and markets hydronic and HVAC equipment for residential, commercial, institutional, and hospitality markets. ECR currently operates manufacturing facilities in Utica and Dunkirk, N.Y., and distributes boilers, hydronic controls, furnaces, ductless air conditioning systems, vertical packaged air conditioners and heat pumps, and package terminal air conditioners under 10 brand names.
For more information, contact:
Renee Robinson
(816) 460-3027
Carolyn Kuczynski
(315) 797-1310
# # #