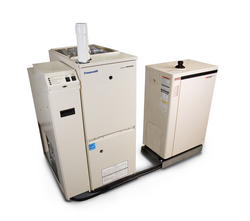 The inclusion of micro-CHP as an eligible technology in New York State's net metering law is a significant step toward a more energy-efficient future.
Utica, NY (PRWEB) February 19, 2010
New York state homeowners now have an added incentive to install residential micro-combined heat and power (micro-CHP) systems in their homes. The New York State Public Service Commission last week approved tariff filings from the six investor-owned New York utilities, paving the way for homeowners who install these technologies to receive credit for excess electricity they generate or sell it back to their utilities.
Central Hudson Gas & Electric Corporation, Consolidated Edison Company of New York, Inc., National Grid, New York State Electric & Gas Corporation, Orange and Rockland Utilities, Inc., and Rochester Gas and Electric Corporation are among the participating utilities. The tariffs previously filed by the utilities will be updated, per the Commission's decision, to reflect the expansion of technologies now eligible for net metering.
ECR International's freewatt home heating system, one of these now eligible micro-CHP technologies, combines an ENERGY STAR-rated, high-efficiency natural gas or propane furnace or boiler with a Honda co-generator to produce heat and electricity for homes. This can lead to excess electricity that can be sold back to the participating utilities.
"Our team has been working closely with the utilities to help establish the procedures required for micro-CHP net metering and we're very pleased with the Commission's decision to approve these tariff filings," said Michael Paparone, ECR president and CEO. "The inclusion of micro-CHP as an eligible technology in New York State's net metering law is a significant step toward a more energy-efficient future. Additionally, it will allow micro-CHP homeowners to offset their electricity costs by selling the excess power they generate back to the utility and save an estimated $1,000 per year."
The freewatt home heating system can generate more than 5,000 kilowatts of electricity each year, reducing a homeowner's carbon footprint by up to 6,000 pounds. That's the equivalent of not driving a car for six months.
"Freewatt owners are often surprised at the system's energy efficiency," Paparone said. "We have letters from homeowners in net metering states that detail cost savings almost unheard of with traditional home heating systems. In fact, some homeowners have cut their electric bills in half and one customer even sent us a bill showing an amount due of just one cent."
For more information on micro-CHP, freewatt or ECR, please visit http://www.ecrinternational.com or http://www.freewatt.com.
About ECR
ECR designs, manufactures and markets hydronic and HVAC equipment for residential, commercial, institutional, and hospitality markets. ECR currently operates manufacturing facilities in Utica and Dunkirk, N.Y., and distributes boilers, hydronic controls, furnaces, ductless air conditioning systems, vertical packaged air conditioners and heat pumps, and package terminal air conditioners under ten brand names.
###