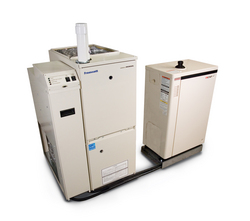 The electricity produced through micro-CHP technology can be used to power the home or can be sold back to the 'grid,'
Utica, NY (PRWEB) March 5, 2009 - Congressman Michael Arcuri (NY-
24) visited ECR International's headquarters in Utica, N.Y., late last week to tour the facility and meet with the ECR leadership team regarding the company's micro-combined heat and power (micro-CHP) technology, the freewatt® home heating system.
With a focus on maximizing the use of fuel energy, micro-CHP technology combines heat and power with its dual approach of generating electricity while heating a home.
"The electricity produced through micro-CHP technology can be used to power the home or can be sold back to the 'grid,'" said Michael Paparone, ECR International president and CEO. "micro-CHP also provides grid support and reliability to electric power systems that are already approaching peak capacity and can also help electric utilities meet emission reduction mandates."
micro-CHP has been identified by the United States Environmental Protection Agency (EPA) as one of two technologies designated as a Climate Choice technology. According to the EPA, Climate Choice is a new partnership program that recognizes emerging technologies that have the potential to substantially reduce greenhouse gas emissions once they are more widely adopted.
About ECR
ECR designs, manufactures and markets hydronic and HVAC equipment for residential, commercial, institutional, and hospitality markets. ECR currently operates manufacturing facilities in Utica and Dunkirk, N.Y., and distributes boilers, hydronic controls, furnaces, ductless air conditioning systems, vertical packaged air conditioners and heat pumps, and package terminal air conditioners under 10 brand names.
# # #