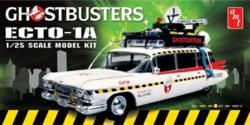 The staff . . . continues to debate which Ecto-1 version is superior.
Lake Forest, IL (PRWEB) July 31, 2012
With the Ghostbusters Ecto-1 model kit, AMT continues to build upon its reputation of releasing high-quality model kits featuring vehicles from film and TV. Modelers will appreciate the attention to detail placed into the model kit, while film buffs will certainly have feelings of nostalgia during assembly.
While the Ecto-1A is the vehicle from Ghostbusters II, the kit offers all of the equipment, decals, and appropriate notes in the instruction manual to build the version of the Ecto Cruiser from the first film as well. Molded in white and clear, the AMT model kit features recessed panel lines on its chassis that accurately represents the 1959 ambulance body used in both films. There is no engine to assemble, but interior parts include a cell phone and CRT screen.
Finer details include the full array of ghost busting equipment on the vehicle's roof rack, and the Ecto-1A even has decals for the digital sign. With the number of unique options available in the AMT model kit, such as the different equipment and the somewhat cheesier "no-ghost" logo used in the second movie, the staff at ModelersWorkbench.com continues to debate which Ecto-1 version is superior.
In addition to the hottest new models available at Modeler's Workbench, serious modelers looking for extra savings and special discounts can sign up for Modeler's Rewards. Program members receive an additional 10% off all orders and are eligible for even deeper discounts utilizing their rewards points. Points are earned on every purchase, for writing product reviews, and for sharing recommendations through social networking sites.
Modeler's Workbench is the Internet's first community based retail website for modeling enthusiasts. As a family owned and operated business, its mission is to keep modelers well informed while offering the widest selection of leading plastic model kit brands at the lowest prices. Headquartered in Lake Forest, Illinois, Modeler's Workbench is a division of Renaissance Retail, the Internet's leading source for specialty consumer products.
Contact:
Timothy Benson
Renaissance Retail
847-932-4720 ext. 2704
Email: tim(at)discoverthis(dot)com