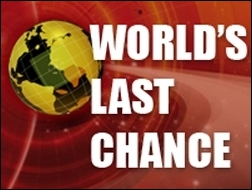 This union will lead to the intolerance and persecution of all dissidents.
Cairo, Egypt (PRWEB) July 16, 2007
World's Last Chance released an article explaining how Bible prophecy reveals that all churches will unite with the Papacy in forming a New World Order with the support of the United States. This imminent union between church and state will lead to the persecution of Christ's true followers.
This ministry cannot overlook the papacy's recent claim that Christ's true church subsists exclusively in the Roman Catholic Church, to the exclusion of all others. This leaves one option for other churches; to either unite with the papacy, or bear the stigma of not being recognized by the largest church in the world.
World's Last Chance believes Benedict remains committed to ecumenical dialogue because, according to Bible prophecy, the Vatican desires to regain the power she had in past centuries by uniting church and state; establishing the right in the U.S. to control religious observances through secular laws.
"The Bible has warned us of this impending danger; Protestantism will end up uniting with Catholicism. But it will not be because Catholicism has changed. The papacy claims infallibility which means she never errs, and thus, never changes. It will be the Protestants who will compromise by adopting Rome's agenda," clarified Dahlia Doss of World's Last Chance.
"This union will lead to the intolerance and persecution of all dissidents."
To understand the future plans of the Catholic Church, read the article in the following link: http://www.worldslastchance.com/full_article.php .
About World's Last Chance
World's Last Chance is a ministry that was founded in 2004. It is operated by a small team of volunteers dedicated to sharing the last message of mercy to be given to the world before the soon second coming of Christ.
Contacts:
Dahlia Doss
World's Last Chance
+249 923 539 500
###